Hi everyone, and welcome to WEEK #2 of ARTS & CRAFTS at TDP's SUMMER CAMP 2019!

I hope you enjoyed the first week of our camp and are ready for even more fun this week. I'm Robin and I'll be your camp counselor this week for this fun challenge!
Remember summer camp as a kid? ...where you made leather belts, friendship bracelets, or even hot pads? You learned a new skill and walked away with Christmas gifts for your mom/dad. Well, this is the place where as an adult, we get to play with awesome new techniques and practice them on our own projects, learn new skills, and walk away with pages for our annual album!

If you've ever spent time reading through the TDP blog, you know it's FULL of amazing ideas. Just like last week, you will have a choice of two previously released Tutorial Tuesday posts to pick from. Your Arts and Crafts challenge this week... is to select at least ONE of these two tutorials, shown below, and use it on your own brand-new page/project!

The two tutorials I've selected for us to choose from this week are shown here...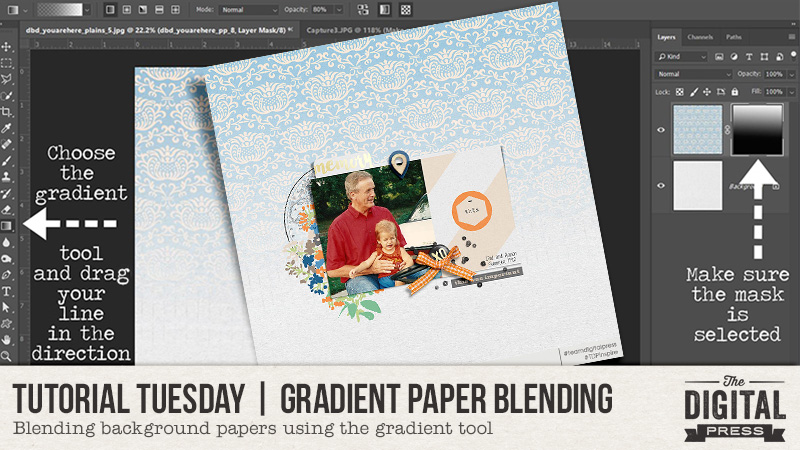 The first tutorial option this week is Gradient Paper Blending[COLOR=#353131]. I actually never even knew this tool existed, since it was hidden under my Paint Bucket Tool... but... I absolutely LOVED playing with this technique. Often I will fall in love with a striking background paper but, just like bugs at camp, too much of it quickly becomes overwhelming. Well... this gradient tool allowed me to use my beloved paper without it being "too much". Problem solved!
http://www.thedigitalpress.co/tutori...gital-layouts/
]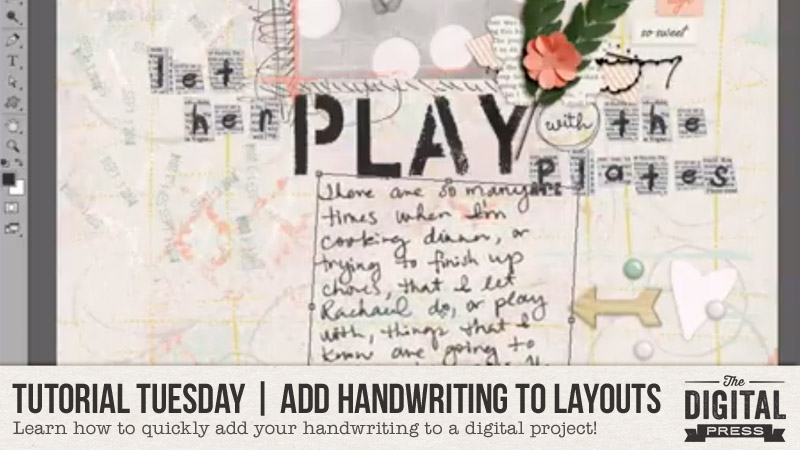 The second tutorial option I've chosen this week is Adding Your Handwriting to Digital Projects. I have TERRIBLE handwriting... I know it... my kids know it... my friends know it. BUT -- sometimes it's good to write a small amount of journaling in your own handwriting so that your family will always remember what it looks like, even if it's bad, right?! Don't you just love seeing something written by a grandparent or someone from long ago? I didn't know how to do this technique before this challenge either, but I was pleasantly surprised by how easy it is!
To give you an idea of what these tutorials can yield, fellow TDP creative team member Anita and I both played with these techniques to show you a few ideas. Remember, this was the first time I used either technique... and if I can do it, you can too! Here's a look at my example page...
[ made with Audacity collab by Anita Designs and Karla Noel ]
And here's a look at Anita's sample page using the gradient technique...
[ using Monthly Chronicles: Carefree ]
*NOTE* she used the Gradient Paper Blending tutorial, but turned hers vertically! I love how one change can really make the page so different. Plus it's a great treatment for papers with text in the design. Isn't this just an amazing option?
Finally, here's another layout example to which she added her handwriting. So cool...
[ using Creashens Around Here Kit and Original Torn Bits 4 with Dawn by Designs All Laid Out Vol.12 Template ]
Now that you've seen a few examples, let's see yours! I can't wait to see what you come up with. Tell us which tutorial option you chose (or, if you try both -- let us know that!)... and show off your page here so we can give you some love!
Here are the rules for this week's "Arts & Crafts" challenge:
Your creation must be a new page or hybrid project that uses at least ONE of the two tutorials shown above, in this post.

You must use 100% TDP products, and your layout or project must be loaded into the gallery no later than 11:59pm PT on Sunday 7/14, 2019.

Once you've loaded your page or project image in the CHALLENGE GALLERY, please leave a comment in this thread and link us back to your page or project in the gallery.
Once you've posted your page or project here in this thread, copy the URL of your post from this thread and add it to the Summer Camp 2019 Tracking Thread.

Most of all ... have fun!
.