************************************************** **************************** THIS CHALLENGE IS NOW CLOSED ************************************************** ****************************
Thank you to everyone who took part. Using the Random Name Picker app, the winner chosen for this month's challenge is.............@wvufan04.
Congratulations Cheryl. Your coupon is on it's way to your inbox.
Wait.....That's not all! Each participant will receive a $2 Coupon as a thank you for taking part.
Hey there scrappers, are you ready for a positive and heartfelt challenge? With all that's gone on these past 18 months, it's easy to lose sight of what we have. So I thought in recognition of November being the month of thanks, we'd do a '
Grateful 30
' challenge to remind us of our many blessings.
For this challenge, you'll use the following template and you'll fill each square/day with a photo, quote, journal card or journaling that represents each prompt...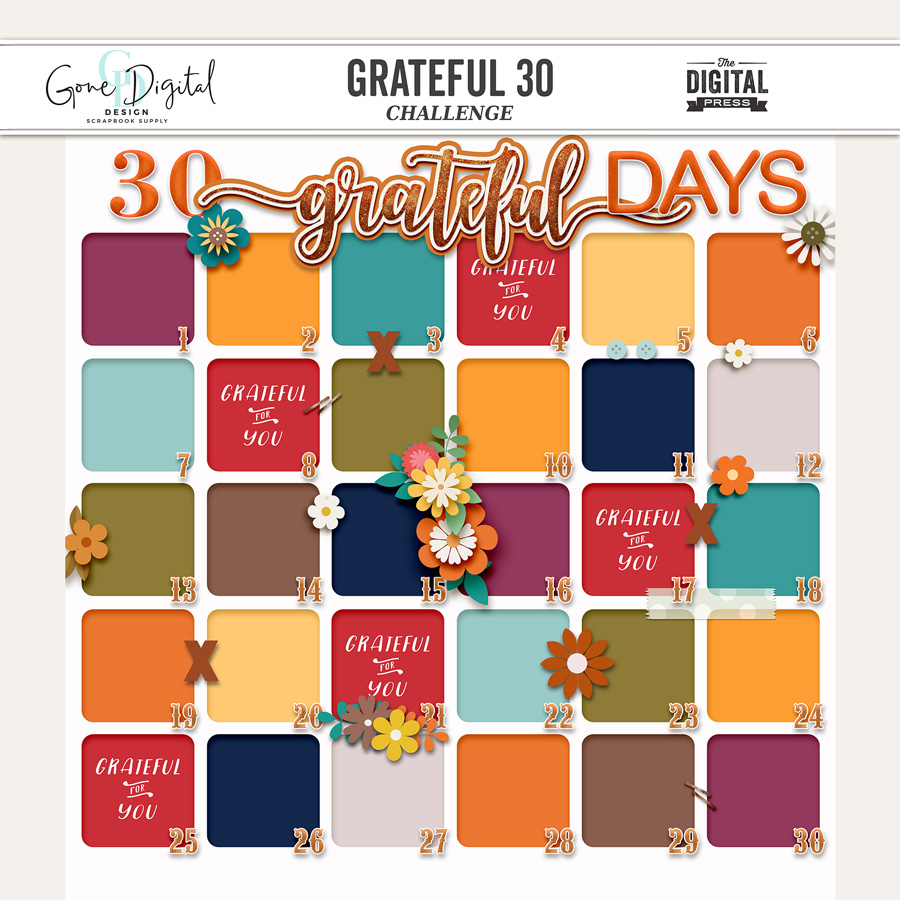 DOWNLOAD HERE
(or click the preview image, above)
The prompts are pretty wide in scope and open to interpretation so you can't go wrong. You can use the prompts that are included, or you can just add a picture to each day as you go. Or you can use your own prompts. Here are a few more suggestions...
Grateful for
Nature
Grateful for
Experience
Grateful for
My person
Grateful for
Laughter/Joy
Grateful for
Faith
Grateful for
Relationship
Grateful for
Guilty Pleasures
Grateful for
Comfort
Grateful for
Freedom
Grateful for
Technology
Grateful for
Book/song/music
Grateful for
Special Skills
Grateful for
Old things
Grateful for
Small things
Grateful for
Big things
Grateful for
Comfort
Grateful for
Autumn (Weather, clothing, fave food)
Grateful for
Transportation
Grateful for
Peace & Quiet
---
FREEBIES
You will have noticed that there are five red squares that include the words '
Grateful for you
'. To show how grateful I am for each and every one of you, I will be offering five coordinating freebies on the dates shown so be sure to check back regularly to pick up the freebies.
You have until November 30th at 11:59 pm EST to complete the challenge and post your layouts in this thread and in the challenge gallery.
DOWNLOAD HERE
(or click the preview image, above)
DOWNLOAD HERE
(or click the preview image, above)
DOWNLOAD HERE
(or click the preview image, above)
DOWNLOAD HERE
(or click the preview image, above)
DOWNLOAD HERE
(or click the preview image, above)
---
If you're participating, don't forget the following useful info..
To receive credit for completing this challenge, make sure you follow all of the rules/guidelines listed in this thread.
Once you have completed your project... post it in the CHALLENGE GALLERY here at The Digital Press, and then create a post here in this thread with an image of your layout(s) plus a link to the image in the gallery.
Your completed project must be posted in this thread by 11:59pm ET on the last day of this month (Nov. 30th) in order to receive credit.
Anyone who completes ALL SIX (6) of the challenges at The Digital Press this month will receive 50% OFF ONE ENTIRE PURCHASE any time during the following month.
Additionally, anyone who exclusively uses my products... will be entered to receive $5 to spend in the GoneDigital Design shop at TDP.
You can include any of my freebies in this challenge but should only account for a small portion of the overall page to qualify.
The winner will be notified by forum PM on December 1st and also posted at the top of this thread.
You may enter as many times as you like, but every entry must be a separate, BRAND NEW project that meets the criteria of this challenge.
Have fun! Let me know if you have any questions about this challenge (you can comment below, and even tag one of us by typing Shannel Tamara or tiffany scraps in your post, if needed!)
I can't wait to see what you create for this challenge. Happy Scrapping!
---
PRODUCTS PERFECT FOR THIS CHALLENGE
Plus it's Black Friday Weekend - Save 60% Off Everything!
.