Are you ready to have some fun... be pushed out of your comfort zone ("challenged," if you will?)... and become inspired to scrap layouts and complete projects that you might not otherwise complete?
WELCOME TO A NEW YEAR OF CHALLENGES AT THE DIGITAL PRESS!
.
---
GENERAL INFO ABOUT OUR SYSTEM
Whereas in the past all challenges at TDP were site-hosted by the TDP creative team (and all prizes were therefore generic TDP discounts and FREEBIES)... in 2020, we switched to a designer-hosted format. We're sticking with that format in 2021... but we've got it more organized, and have added a few fun twists to the prize structure, and we think you're going to love it!



It is our hope that doing so will offer a greater range of prize possibilities, while also keeping our challenge offerings fresh, new, fun, and different each and every month!

We have taken the positives from last year's format (such as it being a less stressful format for participating in each month's offerings, given that all prizes are not solely tied to "how many" challenges you complete... meaning that you can enter just one challenge per month, if that's all you have time for, and you'll still be eligible to potentially win a prize in that challenge) -- and -- we've added a better structure to the system (instead of it being a free-for-all, which is what 2020 turned into... we'll have a standardized SIX (6) challenges per month, with individual prize possibilities for each challenge PLUS the chance to earn a massive 50% discount coupon if you complete all six!).
.
HOW TO COMPLETE CHALLENGES
Each month, EACH OF OUR SIX (6) MONTHLY CHALLENGES WILL HAVE ITS OWN THREAD here in the forum. We will "sticky" all of each month's challenge threads to the top of "The Crossword Section" here in the forum, so as to make them easy to find.

Challenges will be posted by individual designers at the shop... and each one will be titled with the designer's name, as well as the month the challenge pertains to.

When you complete any challenge, you'll first (A) load your project image into the CHALLENGE GALLERY... and then (B) post that same project image into the applicable challenge thread (using the links you'll get from the gallery -- either/both the "large" image version URL, and/or the image's gallery page URL).

If you complete all SIX (6) challenges in any given month, you'll earn a 50% OFF coupon that can be used on any ONE ORDER (no matter how big!) during the following month.

Additionally, each time you complete one of our designers' challenges while exclusively using products from that particular designer -- you'll be entered into a random drawing to potentially win $5 to spend in her shop. It won't be a requirement to use a certain designer's products -- but you'll definitely have an incentive to do so, if you like a designer's offerings and want a chance to win some more!

.
---
.
.
FAQ AND OTHER HELPFUL INFO
Q---How long do I have to complete each challenge?
A---Unless otherwise noted in a particular challenge thread, you always have until 11:59pm ET on the last day of the month to complete any challenge. So for the month of January 2021, for example, you'd need to have all of your completed projects posted in the gallery... linked into each challenge thread... by 11:59pm ET on January 31st. Some types of challenges (such as Speed Scraps, Slow Scraps, Digi-Morph, etc. to name just a few examples) might have separate deadlines that replace the "end-of-month" guideline. Please read each challenge thread for the details of that particular challenge.

Q---To meet the 100% TDP product requirement, what products am I allowed to use?
A---All challenges at TDP will require participants to use 100% TDP product. What does this mean? Each month, you can use any product that is currently for sale at The Digital Press (including products sold at TDP by our guest designers from that same month)... in addition to the following items:
..........(a) any freebie and/or retired item designed by our permanent resident designers (you can find the list of our designers in the left-hand sidebar of the SHOP), even if that freebie or retired item wasn't ever for sale at TDP
..........(b) any product that was sold at TDP by a guest designer from the previous month (e.g. if we have a guest in January, you may use the products you purchased from her during January AND February, giving you a total of 2 months to use those items for challenges -- unless the rules of a particular challenge prohibit using items other than those stated in the challenge rules)
..........(c) any product that was sold at TDP the previous month by a designer who retired and/or left the store (e.g. if someone retires at the end of January, you may still use her products during February... etc.).

Q---If I complete all 6 challenges in a month, can I combine my 50% OFF ONE PURCHASE discount with other sales/promotions at TDP the following month?
A---Any discount coupon codes that you earn will replace other sales in the shop (so you'll want to pick the discount that gives you a better deal... and only apply your discount coupon code from challenges to items that aren't already discounted as heavily as the discount rate you've earned.
For instance...
---Your 50% OFF discount code will be worth more than our standard 30% OFF New Release sale... so you can apply your code to get a better deal!
---Your 50% OFF discount code won't ever be a better deal than our weekly Publisher's Picks sale (which is 50% OFF) or our monthly Special Edition sale (which is also 50% OFF), so there will be no need to use it on these items. Instead, you can save it to use on other items that aren't on sale!
---Your 50% OFF discount code won't work on our $1 Pennysaver items (in February and August)... but they'll already be such a good deal, you won't need to waste your code there! You can save it to use on other regular-price items in the shop that aren't discounted.
---You may also always use your discount code on any item in the shop that is set to its regular list price, and your code will give you a great deal!

Q---If I complete all 6 challenges in a month, when (and how) should I expect to receive my 50% OFF ONE PURCHASE discount code?
A---We will always try to send out any discount coupon codes that you earn on the first Monday or Tuesday after the previous month's challenges close. For instance, for January 2021 -- the challenges will end at 11:59pm ET on Sunday 1/31 . . . and we'll be trying to send out the prize codes within about 48 hours of that, on Monday or Tuesday. We will always send codes to whatever e-mail address you use for your TDP forum account . . . so make sure you check that account, if you have more than one! If you ever have trouble and don't receive your code on the first Mon/Tues, shoot Laura Passage a message here in the forum and she'll try to troubleshoot why you didn't receive it (often, we find that someone is using an old e-mail address for their forum account... but sometimes, we've also had instances where e-mails disappeared into the atmosphere and in those cases, we can use the forum's PM system as a backup plan).



Q---After I've loaded my project image in TDP's gallery... how do I post and link up that image in the challenge thread?
A---Here's a quick step-by-step tutorial on how to link an image from the gallery and post it here in the forum...
post your project image in the gallery

look to the bottom-right of your image; you'll see a row of grey stars & under that, 3 URL links: BB code / HTML code / Image link

click once on the link for "BB code" and it will automatically select that code

use the CTRL + C function on your keyboard to copy the link (use those 2 keys together at the same time on a PC; on a Mac it's COMMAND + C)

now, you'll come back to the forum and find the challenge thread that relates to your image... start yourself a new post on that thread... and paste the text you just copied from the gallery (the BB code) into your thread using CTRL + V (or on a Mac, COMMAND + V)

at first it will just look like a jumble of coded text... but when you post your response on the thread, it should display the image from the forum! #yay
.
***OPTIONAL BONUS*** ...if you need to also link to the gallery page where your image "lives" on our site, too (in addition to simply displaying the image in the forum thread)... do the following before you post your response:
A---go back to the web page in the gallery where your image was posted by you
B---look up at the top of your browser window and you'll see the "web address" (URL) of that web page; highlight it and "CTRL + C" to copy it
C---come back to the forum thread... hit return a couple of times after your BB code for the image... and paste (CTRL + V) the URL to your gallery page. You can even include some text/verbiage before your link, if you like, such as "Find my image in the gallery HERE..."
Here's a screenshot image of what you'll see in the gallery (just follow that big yellow arrow at the bottom-right!)...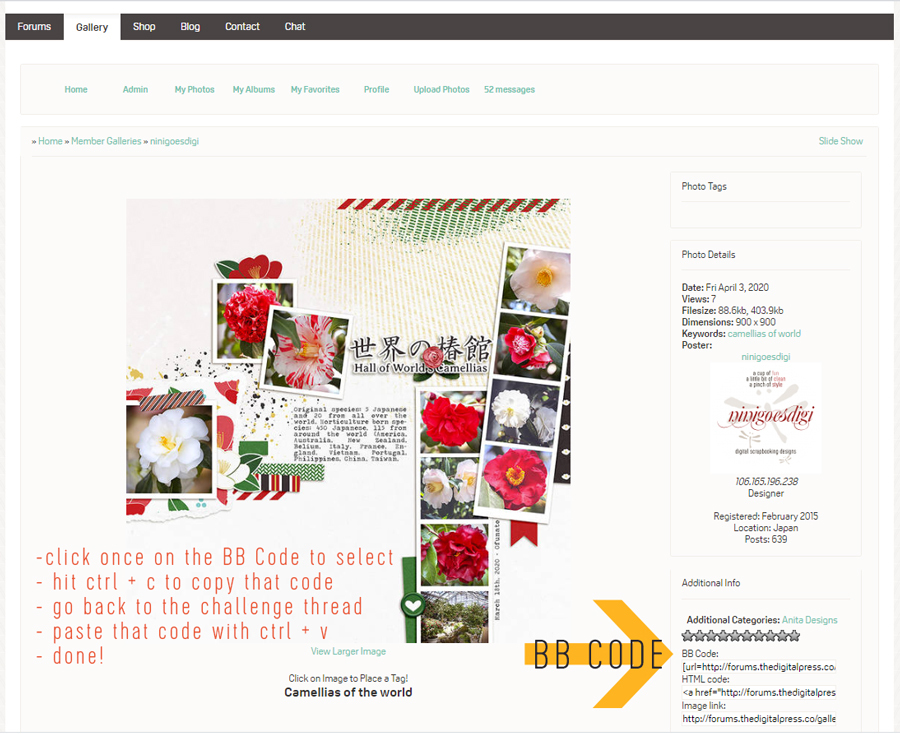 [ many thanks to designer Nini Lee (of ninigoesdigi) for creating this great visual for us! ]
.