Is that 2020 in the rear view mirror? DAMN WE MADE IT! Pat yourself on the back lol it wasn't easy but we are HERE we are PRESENT and we are READY for a new year with NEW Challenges! I don't know about you but I am struggling with being inspired and creative...so I figured now is as good as any to just get our thinking caps on and get cracking on ways to kickstart our creativity.
For this challenge, we'll all use our notebooks and pinterest boards and favorite blogs/instagrammers (and heaven forbid tik-tokkers lol) and use our imagination and think outside of the box, have fun and share our strategies. So for this challenge... your project can be a regular scrapbooking layout, or a photo-centric page with journaling layered on it (sometimes a picture alone speaks a thousand words! ...you can share a picture of a journal page, or a to-do list, or any other method you use to keep yourself on track and organized and inspired for 2021! ...heck, even if it's a Trello board or Google calendar... but be careful not to share any truly personal info
)... just have fun and remember we need proof... so "pictures or it didn't happen!" lol for this particular challenge project.
You can even use (or not!) the following goodies, if they help... because to help with giving everyone a proverbial 'kick' to get you going, I have this little printable goodie you can grab (totally optional to use
)...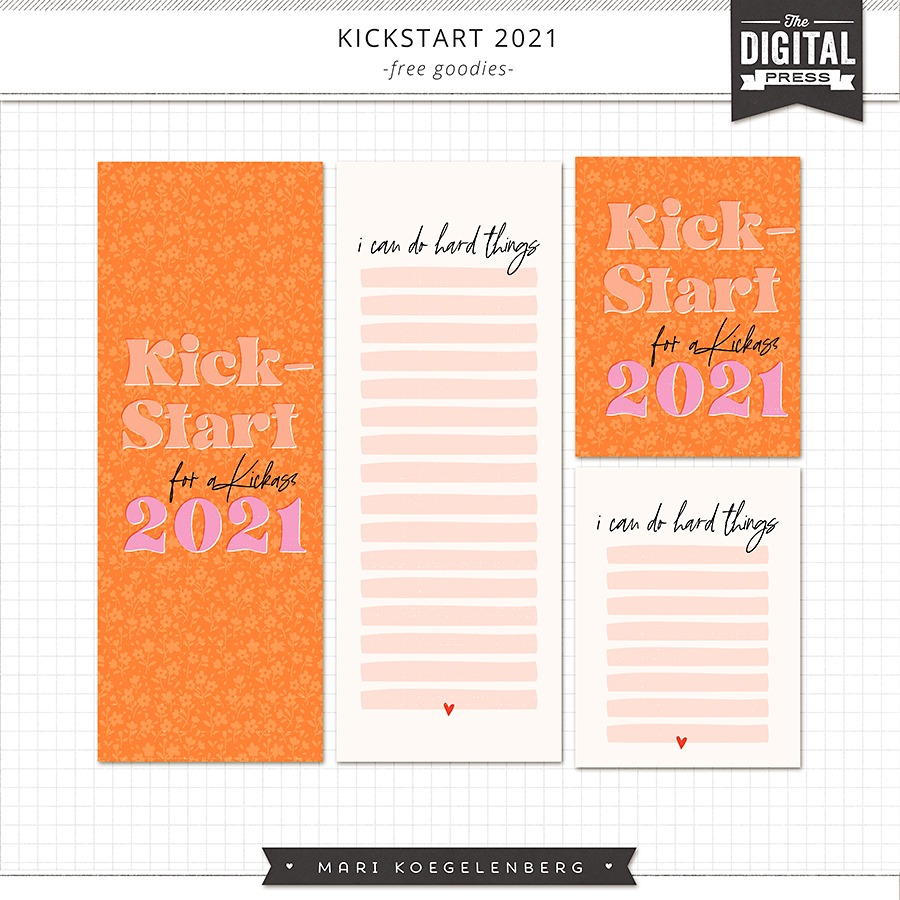 DOWNLOAD HERE
(or click the preview image)
To give you an inspirational example, TDP creative team member Kat has created a project about how she will be tackling her kickstarting goals for 2021...
[ uses the freebie cards shown above + the January 2021 TDP Designer Collaboration collection -- Turn The Page ]
.
---
.
Thanks for joining into this month's KICKSTART 2021 CHALLENGE! If you're participating, don't forget the following useful info...
To receive credit for completing this challenge, make sure you follow all of the rules/guidelines listed above in this thread.
Once you have completed your project... post it in the CHALLENGE GALLERY here at TDP, and then create a post here in this thread and link us to a copy of that gallery item.
Your completed project must be posted in this thread by 11:59pm ET on the last day of this month in order to receive credit.
Anyone who completes ALL SIX (6) of the challenges at TDP this month will receive 50% OFF ONE ENTIRE PURCHASE any time during the following month.
Additionally, anyone who exclusively uses products by the designer hosting each individual challenge... will be entered to receive $5 to spend in that designer's shop (so in theory, you could be eligible to win 6 different $5 gifts if you use the correct designer's products in each challenge this month!)
Have fun! Let us know if you have any questions about this challenge (you can comment below, and even tag one of us by typing marikoegelenberg or Kat Hansen in your post, if needed!)
Thanks for playing along, and we can't wait to see what you come up with!