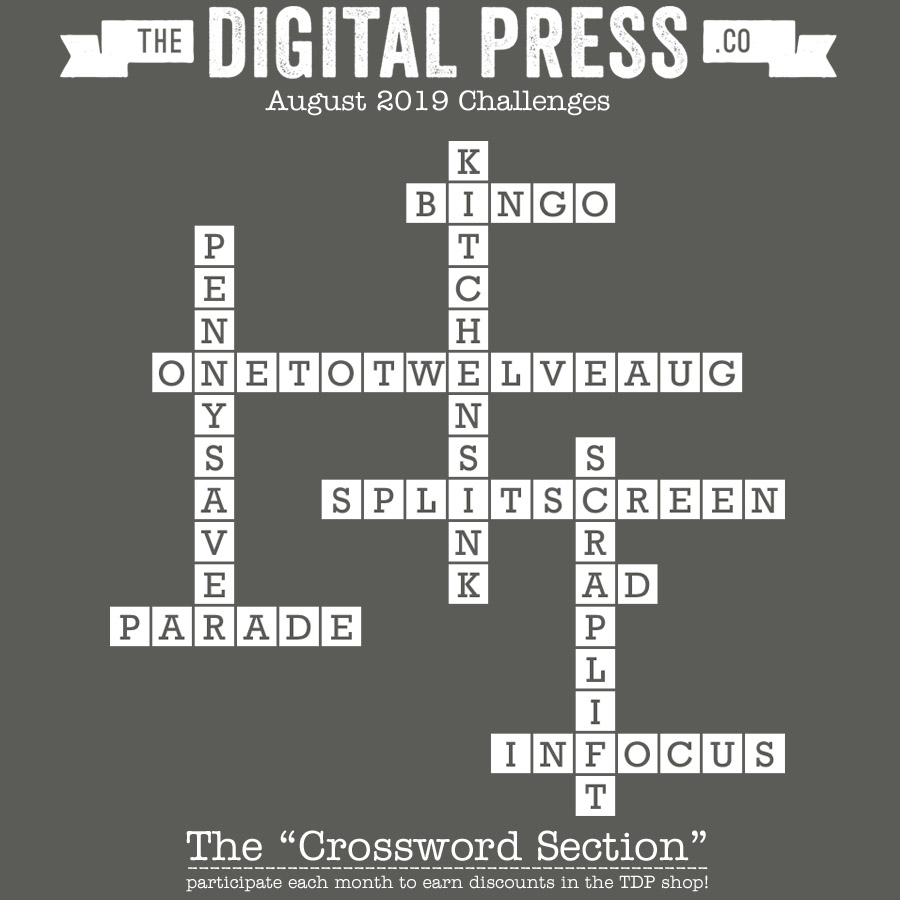 To participate in the
AUGUST 2019 CHALLENGES
at The Digital Press... you simply need to start your own post (below, within this thread) to track your progress this month.
STEP 1
Highlight and "copy" the list that appears below these instructions.
STEP 2
"Paste" this list into your own post in this monthly tracking thread.
STEP 3
Throughout the month, each time you complete a challenge and post your image/gallery link in the applicable challenge thread... you need to grab the link to your post, and "bring" it here to this thread. For every challenge you complete, you'll link us to your post in that challenge's thread by adding a link to your list, below. [SEE EXAMPLE, BELOW*]
THIS IS THE LIST YOU'LL COPY/PASTE INTO YOUR OWN POST, BELOW...
*IN FOCUS 2019 CHALLENGE (JUNE PHOTOS) --
*IN FOCUS 2019 CHALLENGE (JULY PHOTOS) --
ONE-TO-TWELVE (AUG) CHALLENGE --
PARADE CHALLENGE --
PENNYSAVER CHALLENGE --
KITCHEN SINK CHALLENGE --
BINGO CHALLENGE --
SPLIT SCREEN CHALLENGE --
SCRAPLIFT CHALLENGE --
AD CHALLENGE --
*
note the "BONUS CHALLENGE" in this month's lineup... we're giving those of you who have been creating an IN FOCUS album for 2019 a chance to catch back up, given that we didn't have an IN FOCUS CHALLENGE in July 2019 due to Summer Camp. Participants in the August Challenges will still only have to complete 9 total challenges to earn the max # of points for August, however... so you can choose any 9 of the 10 challenges (or do them all, if you like!).
*EXAMPLE

To copy/paste the URL of your individual post within any of the challenge threads... click on the number that appears at the top-right corner of your post, and then "copy" the URL that appears.
Then, come to this tracking thread... open your post (by clicking "edit" at the bottom right corner of your post)... and "paste" the URL you copied into your list, right next to the challenge it relates to.
Easy-peasy! Now you've linked us straight to your post within each challenge thread.
.