Welcome to the October edition of our
SCRAP IT | 2018 CHALLENGE
here at The Digital Press!
Throughout 2018, we've been running this monthly challenge for memory keepers to scrap the previous month into either 1-page or 2-page spreads. Each month, we provide the free templates... and you provide your photos and your memories from the previous month (so for this month's challenge, we'll be scrapping
September 2018
)!
This month, you will be using the following
FREEBIE TEMPLATE SET
(designed by Laura Passage, in case you need to find any of the previous month's templates in this series)...
to create your
1-page *OR* 2-page
layout...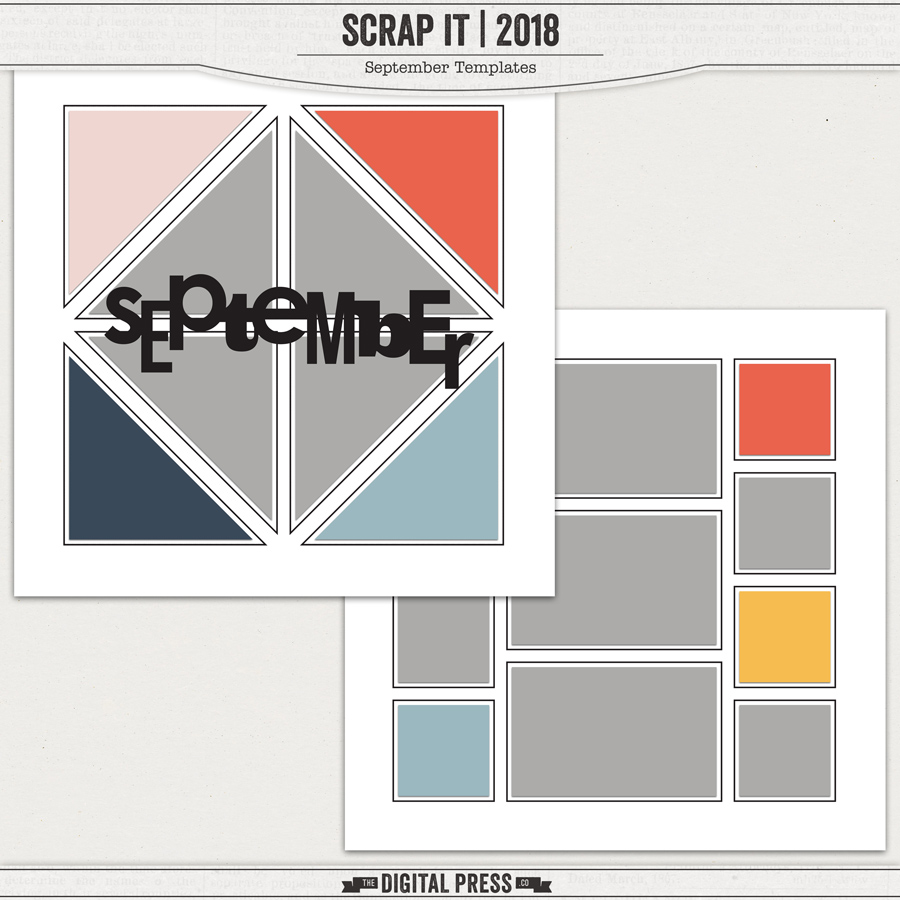 DOWNLOAD HAS EXPIRED
(this set is now available in the shop here at TDP, however... if you missed it and want to go back and grab it to catch up!)
***NOTE***
You must use at least
ONE
of the 'SEPTEMBER 2018' freebie templates, shown above, to create a
1-page *OR* 2-page
spread documenting the month of SEPTEMBER. You may use photos of September 2018,
OR
any previous year (if you are using this on-going project to get caught up on previous years). If one of the previous templates from this series works better with your photos, you may mix one of the 'SEPTEMBER 2018' template freebies with any of the previous SCRAP IT | 2018 template freebies (so for this month, that would be (A) the cover templates, (B) the January templates, (C) the February templates, or (D) the March templates, etc. etc. etc. through (I) the August templates). But to get credit for this month's challenge... you must use at least ONE of the templates shown above.
Need some inspiration? Here's a look at my own September 2018...
credits: Backyard Adventure by Cornelia Designs
THE RULES:
YOU MUST USE AT LEAST ONE OF THE 'SEPTEMBER 2018' FREEBIE TEMPLATES TO CREATE A 1-PAGE *OR* 2-PAGE SPREAD IN WHICH YOU ARE DOCUMENTING SEPTEMBER 2018 *OR* SEPTEMBER OF ANY PREVIOUS YEAR
Your creation must be made using 100% TDP products (other than any physical supplies you might need, if doing a hybrid project)
Your layout must be loaded into the gallery no later than 11:59pm ET on October 31, 2018.
Once you've loaded it into the CHALLENGE GALLERY, leave a comment in this thread with your project
Once you've posted your project here in this thread... copy the URL to that post and add it to the OCTOBER 2018 TRACKING THREAD.
Have fun!
.