WELCOME TO THE SECOND MONTH OF SCRAP IT | 2018!
(find the first month's information/etc. HERE in the forum)
I hope that 2018 has been excellent for you so far!
If one of your New Year's resolutions was to get more scrapping done in 2018... we have a great way to help you achieve that goal: our new
SCRAP IT | 2018
challenge series, which will run each month throughout the entire year!
Here's how it will work -- each month, there will be a new challenge posted... to scrap a two-page spread documenting the previous month using FREE TEMPLATES that we will provide. Easy peasy, right?!
There's only one catch -- each month's free template set will ONLY be available for that month. So you have to keep up-to-date! The good news is that the templates will make it really, really easy to do that (and then, at the end of the year, you'll have an album all completed and ready to go!).
The challenge for this month is to scrapbook your previous month into a 1-page or 2-page spread, using our "January" FREEBIE template to document your January 2018 (or January of any previous year, if you happen to be using this project to go back and scrap previous years).

*NOTE* You can mix one of the January 2018 template freebies with any previous Scrap It | 2018 freebie (so for this month that would be either of the cover photo templates), if the previous template works better with your photos... you just have to make sure you use at least ONE of this month's templates, in order to get credit for this month's challenge!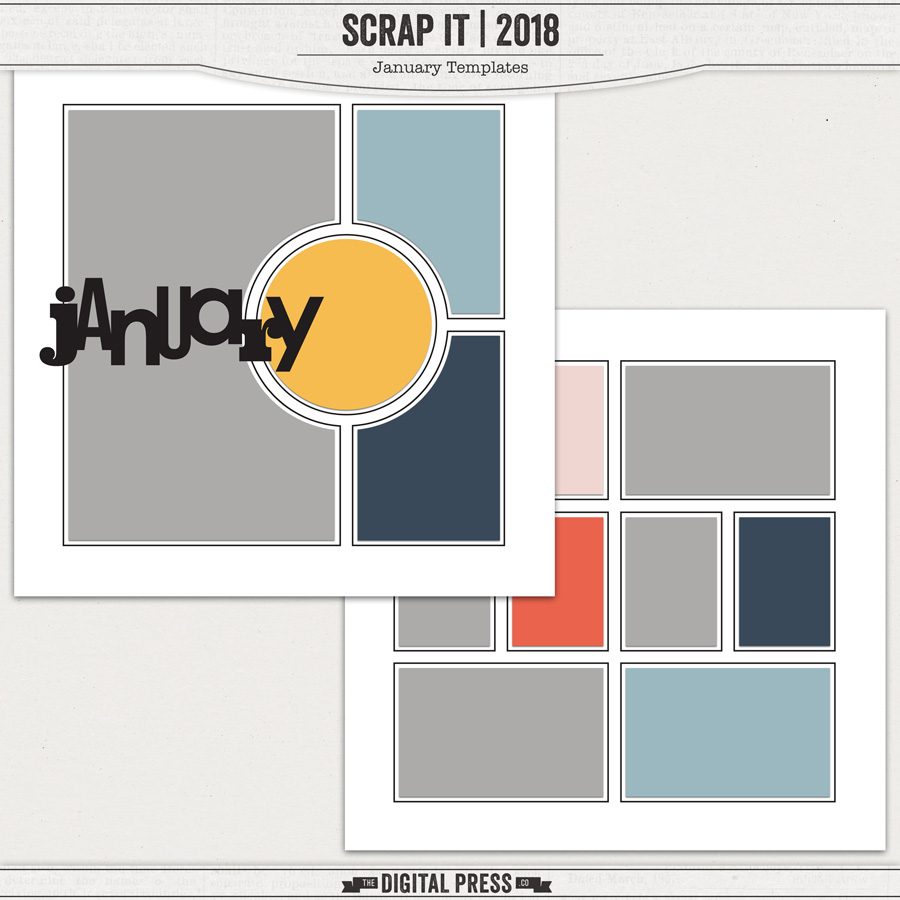 DOWNLOAD HAS EXPIRED
(this set is now available in the shop here at TDP, however... if you missed it and want to go back and grab it to catch up!)
---
I'm already super stoked about this challenge series, and am looking forward to seeing this challenge through for 2018!
I had so much fun making this 2-page spread for my
SCRAP IT | 2018
album! I used
Anita Designs Almanac Collection
to put together my pages:
THE RULES:
Your must use at least one of the SCRAP IT | 2018 January 2018 freebie templates (download link above; available thru the end of 2/28/2018).
Your layout must be loaded into the gallery no later than 11:59pm ET on February 28, 2018.
Once you've loaded it into the CHALLENGE GALLERY, leave a comment in this thread with your project (please use the bbcode to link 'em up so we can leave you some gallery love!).
Once you've posted your project here in this thread... copy the URL to that post and add it to the FEBRUARY TRACKING THREAD.
Have fun!
.