WELCOME TO THE FIRST MONTH OF SCRAP IT | 2018!
I hope that 2018 has been excellent for you so far!
If one of your New Year's resolutions was to get more scrapping done in 2018... we have a great way to help you achieve that goal: our new
SCRAP IT | 2018
challenge series, which will run each month throughout the entire year!
Here's how it will work -- each month, there will be a new challenge posted... to scrap a two-page spread documenting the previous month using FREE TEMPLATES that we will provide. Easy peasy, right?!
There's only one catch -- each month's free template set will ONLY be available for that month. So you have to keep up-to-date! The good news is that the templates will make it really, really easy to do that
(and then, at the end of the year, you'll have an album all completed and ready to go!).
The challenge for this month is just a single page -- the cover -- and you can choose from either of these gorgeous templates. Or... you can create a front AND back cover
(using the same template... or using one of each... it's totally up to you!)...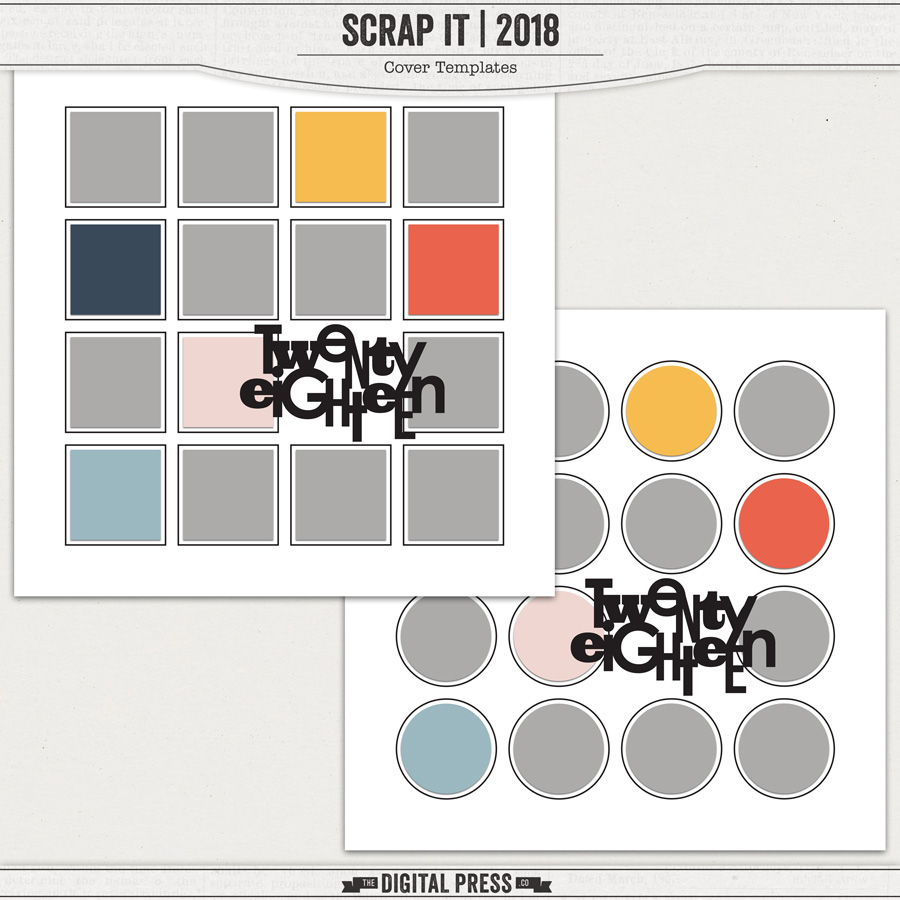 DOWNLOAD HAS EXPIRED
(this set will be available in the shop here at TDP as of 2/2/2018, however... if you missed it and want to go back and grab it to catch up!)
---
I'm already super stoked about this challenge series, as I'm one of those people who appreciates the extra boost to maintain momentum for month-in-review-style pages.
I had so much fun making this cover page for my
SCRAP IT | 2018
album! I also used one of my favorite TDP Designer Collabs --
Office Space
...
Other members of our awesome creative team here at TDP have also jumped at the chance to make cover pages, as well. Here's one from CT member Stefanie... using Brighter Days by Anita Designs.
*NOTE* the "2018" word art number on Stefanie's page is included with both of the templates, as well, as an alternate option to the text-based version you see on my page, above.
And here's yet another page... this time, from CT member Hillary using
All Boy
by Dawn by Design...
And lastly, here's the page that CT member Corrin made using January 2018
Special Edition
goodies from Meagan's Creations & Rachel Hodge.
You can see from those last two sample pages that you can totally make this template your own. I hope that you're as excited for this challenge series as I am. I can't wait to see how it unfolds!
THE RULES:
Your must use one of the SCRAP IT | 2018 cover templates (download link above; available thru the end of 1/31/2018).
Your layout must be loaded into the gallery no later than 11:59pm ET on January 31, 2018.
Once you've loaded it into the CHALLENGE GALLERY, leave a comment in this thread with your project (please use the bbcode to link 'em up so we can leave you some gallery love!).
Once you've posted your project here in this thread... copy the URL to that post and add it to the JANUARY TRACKING THREAD.
Have fun!
.