Welcome, everyone, to a wonderful new challenge here at TDP... The Recipe Book Challenge!
Starting this month and running for the next 3 months, we will be running this new challenge in conjunction with our new feature series on The Digital Press Blog, which is called
FOODIE FRIDAY
and is a combination of our normal "designer feature" series that happens each Friday... but also has a new twist -- FOOD! Based on the wild popularity of our "Mess Hall" activities during July's Summer Camp here at TDP, we decided to incorporate food and recipes into our next round of designer features on the blog.
How will this work?
Well, each Friday we'll launch a new
FOODIE FRIDAY
blog post -- featuring one of our designers, one of our creative team members, and a bunch of their favorite yummy recipes! Here's a sneak peek of the
first edition of this series
, which just went live on the blog today and features Kristen of
k.becca
and TDP creative team member Carrie...
Foodie Friday | k.becca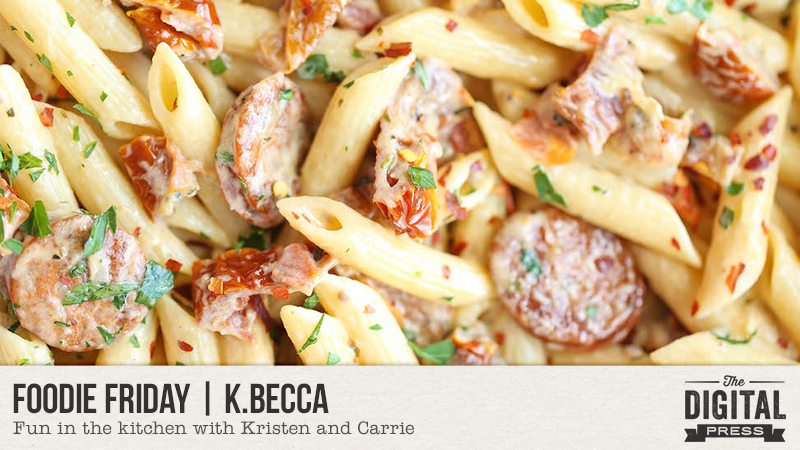 Meanwhile, we'll also be running the
Recipe Book Challenge
every month here in the forum
(through September, October, and November... at minimum).
The Recipe Book Challenge will call on you to create a recipe page (or pages),
using a recipe page template that we provide.
If you choose to participate every month
(even, possibly, on a weekly basis?)
-- you'll likely have enough Recipe Book pages by December to be able to compile them into one printed book to give out as a gift to family and friends at the holidays.
How cool is that?! What a wonderful, unique gift this could be, in the end!
.
---
.
For the challenge this month, you will be required to create a recipe page (or pages) using the template that we provide below. The template was designed by TDP's
Laura Passage
, and is part of
a full set that you will find in her shop
.
Here's how it will work --- everyone will get access to one of the templates from this set (shown below). You can download it from this challenge thread, through the end of September 2017, FREE of charge. After that, it will be available for purchase as part of the
main set
.
GOOD NEWS, THOUGH
... anyone who completes this challenge
during September 201
7 will receive the ENTIRE VOLUME 1 SET FOR FREE
(to use for any other pages you might want to create throughout the month).
All you have to do, once you complete this challenge using the FREE template... is shoot Laura (
Laura Passage
) a PRIVATE MESSAGE here in the forum -- and link her up to your finished page. She will respond within 24-48 hours with a code that you can use to grab the entire set for FREE. Again, the challenge
must
be completed during
September 2017
to get the entire set free.
Here's a look at the FREE template you'll be using in September...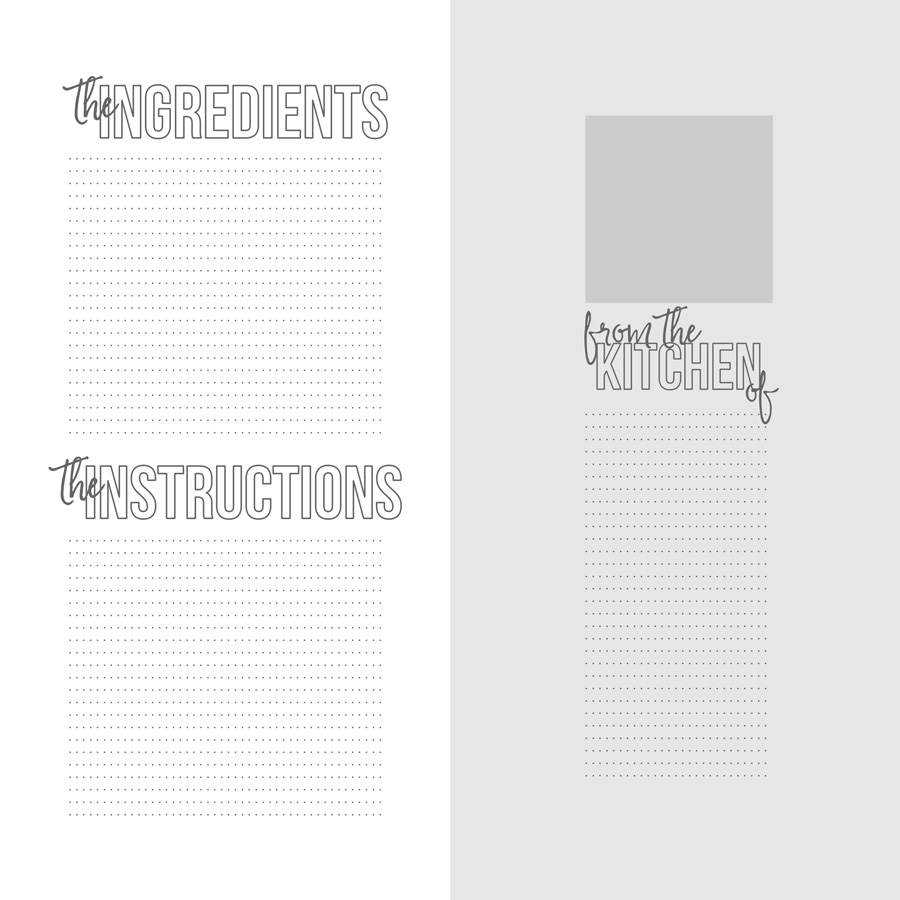 DOWNLOAD THE TEMPLATE HERE
(available in both 12x12 and 8x10 format; both included in the download file)
And here's a look at the
full "Volume 1" set of templates
, which is available for sale in Laura's shop at The Digital Press. Again, once you complete the challenge using the FREE template, above, shoot Laura a PM (
Laura Passage
) to link her to your finished recipe page image... and she'll respond in 24-48 hrs with a coupon code for you to grab the entire set for FREE as long as you complete the challenge during
September 201
7!
Cookbook (Volume 1) | Templates
.
---
.
As for the content of your recipe book pages... the recipes
can
be based on the Foodie Friday recipes we post on the blog ---or--- the recipes can be your own, instead. Totally up to you! The source of the recipe doesn't matter -- but
the photos of the food must be your own.
As you can see, the templates provided are very versatile... and you can modify or add to them to create your own style of album. Here are 4 pages that I have made with this template set
(because I am determined to finally complete a recipe book for my girls for Christmas... and this is the perfect motivation to do it!)...
If you think you will be using these pages to create a full cookbook / album... here are just a few hints on creating an album:
Decide what size you want to print. I will be printing out 8*8
Select fonts & use consistently. I have used Century Gothic (14 point) for the main recipe and 2 handwritten font for notes and recipe name
Decide on colour scheme. I have selected one background paper and have then used shades of the main colour for colour blocks and heading colour.
Decide on one consistent shadow direction/size for any elements/etc. you add to your pages.
*TIP* If you happen to work in Photoshop CC, you can use it to set up a Library for your recipe book and add the layer styles, fonts, and any colours you will be using.
Remember that there are a lot of wonderful kits in the store designed for cooking-style layouts or a recipe book. Just enter "cooking" or "recipe" in the shop's search bar for results. I discovered a couple of new kits today that I had forgotten all about, so it is definitely worth checking out the shop!
Here are the rules of this challenge:
Your digital or hybrid recipe page must use the template provided (see link, above) and all photos must be your own.
Your layout must be loaded into the gallery no later than 11:59pm ET on September 30, 2017.
Once you've loaded your layout into the CHALLENGE GALLERY, leave a comment in this thread sharing your page with us and linking us back to your layout in the gallery.
Once you've posted your project here in this thread... copy the URL to that post and add it to the SEPTEMBER TRACKING THREAD.
Have a great time!
I can't wait to see your pages! Have fun cooking and creating!
.