We've got fun news for you today... the final results of our August 2016 Digi Morph Relay MEDAL ROUND competition!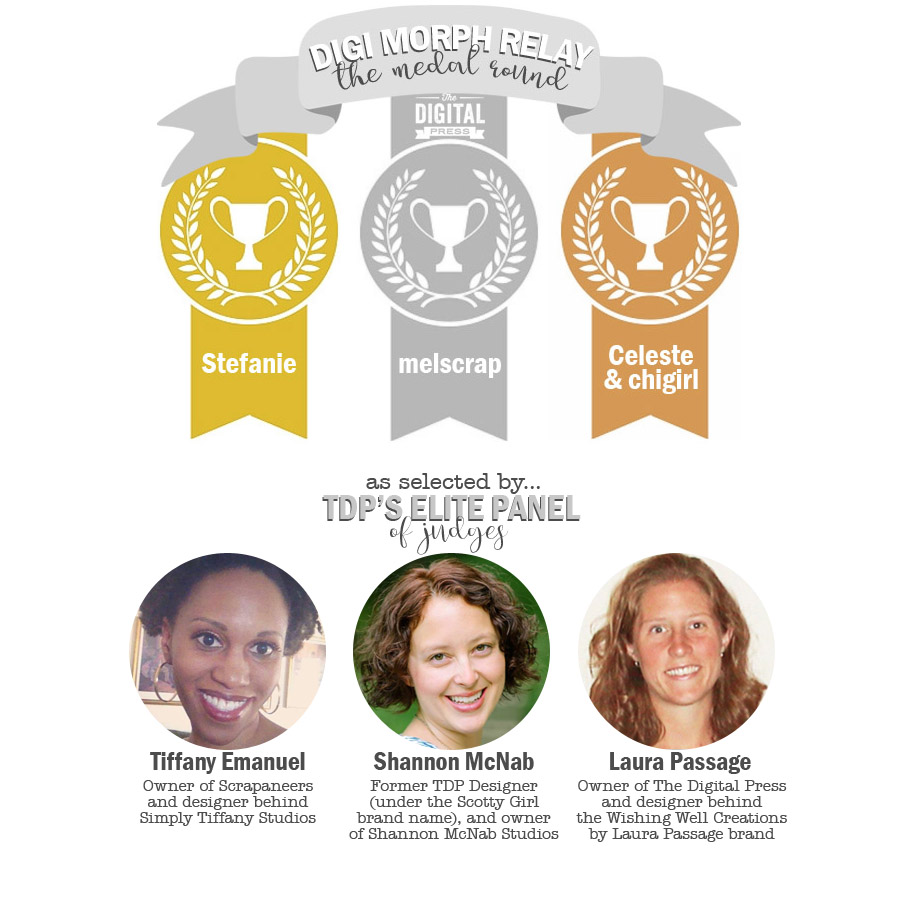 Our gold medal winner, (
Stefanie
), has won a $15 gift card to The Digital Press.
Our silver medal winner (
melscrap
) has won a $10 gift card to The Digital Press.
And our bronze medal winners (
Celeste
&
chigirl
) have each won $5 gift cards to The Digital Press.
Winners were selected by our Elite Panel of Judges --
Tiffany Emanuel
, Owner of Scrapaneers...
Shannon McNab
, former TDP Designer and owner of Shannon McNab Studio... and
Laura Passage
, owner of The Digital Press and designer behind the Wishing Well Creations digital brand. Selections were made using a ranking system that took into account "general level of morphness"
(technical term coined by our event hostess, Katherine #TrademarkPending)
, digital techniques used, and effectiveness of storytelling.
Winners,
you will receive an e-mail from The Digital Press sometime in the next 48 hours
that contains information about collecting your prize... as well as the actual feedback/notes from our judges (because everyone loves feedback, right?).
To everyone else... THANK YOU SO MUCH for participating all month long, and making this one of the most memorable and fun events we've hosted at TDP in a long time!