A layout/project can only count towards one challenge at a time. Your layout must be a
new
creation and must contain
100%
TDP product (but you can use freebies and retired products from designers who are currently resident designers at The Digital Press).
For March 2016 challenges
, you may use any product currently for sale at TDP, in addition to the following items:
any product sold at TDP by our March 2016 guests (

Jimbo Jambo Designs,

MEG Designs, and Tracie Stroud)
any retired or freebie product from the TDP resident designers. (You can find the list on the left-hand side of the Shop homepage.)
This is the spot to track all your completed challenges for this month! Here's how to do it:
Once you've completed a challenge, upload your layout to our gallery.
Come back to the specific challenge post (found here somewhere here in "The Drawing Board: Challenges" forum) and leave a comment on that challenge thread with your image and a link to your layout in the gallery (that way, everyone can leave you some love!).
Then, come back to this tracking thread, where we want to see a link to that particular comment (from step 2) that you left on the challenge thread (not a link to the gallery image). HELPFUL HINT: if you look at the top right of this post, you'll see there is a #1 -- and that #1 is a link. Click on it, and copy it, and then that is the link you will need to post for us in this thread.
For Social Media points, please add a link to your Social Media post next to your LO link.
Feel free to claim your spot now and come back throughout the month to update/link up your comments
One last note -- if you're new to the TDP Challenge System and need more information about it, you will find the info
HERE
.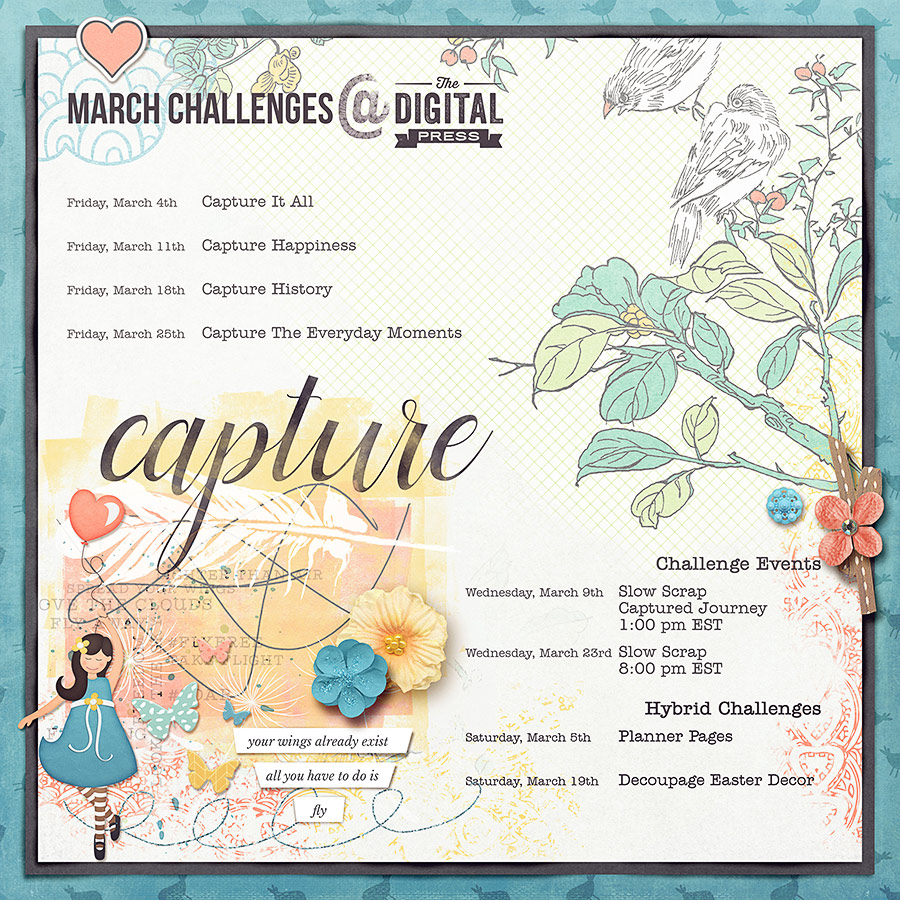 Mar 4: Capture It All
Mar 5: Planner Pages
Mar 9: Slow Scrap (1:00 PM EST)
Mar 11: Capture Happiness
Mar 18: Capture History
Mar 19: Decoupage Easter Decor
Mar 23: Slow Scrap (8:00 PM EDT)
Mar 25: Capture The Everyday Moments