Art Journaling 101 - Where to Begin
Welcome to Week 6 of Summer School at TDP! Today we are going to dive in to the wonderful world of Digital Art Journaling together! I've heard people say before that this is one style that intimates them... they'd love to try it, but they don't know where to start. Well, I'm here this week to share with you some tips and ideas that will show you how easy it can be so that you can begin your own journey into the not-so-messy side of using digital paint and stamps!
What You Need to Get Started:
The first item you need in your toolbox before you get started with digital art journaling is a little bit of bravery. You're about to try something new! So in the spirit of adventure, remember to have fun while you're experimenting with this unique style! And always remember that art journaling is a unique style--that means that you're doing this for you (and no one else). If you think it's beautiful, if it makes you happy... that's when you are "doing it right." It's a totally subjective kind of art where beauty is totally in the eye of the beholder. So, always remember to do what you love and to also be kind (and not let your inner critic out of her cage) while you are trying your hand at something new like this.
The second thing to remember is that digital art journaling is not as difficult as it looks--and it's certainly not anywhere as difficult or intimidating as sitting in front of real live paint. We all know how much of a breath of fresh air digital scrapbooking is... compared to the all the anxiety, frustration and panic you may feel sitting in front of a blank piece of 12 x 12 paper, some embellishments and your precious photos. Ha! In the same way, digital art journaling takes all of the complication out of art journaling--but leaves all the fun!
But, practically speaking, What else is helpful to have in your toolbox? There are a number of things that are well-suited to digital art journaling! Here's a short list:
Paint
Stamps
Doodles
Antique Papers
Washi Tape
Stamped Alphas
Word Art
Masks
My "Heart Art" line of products is something that I started after a creative team friend saw some of my photos of my personal journal on FB...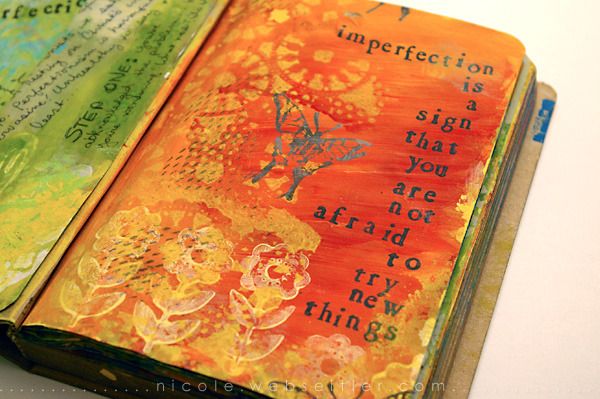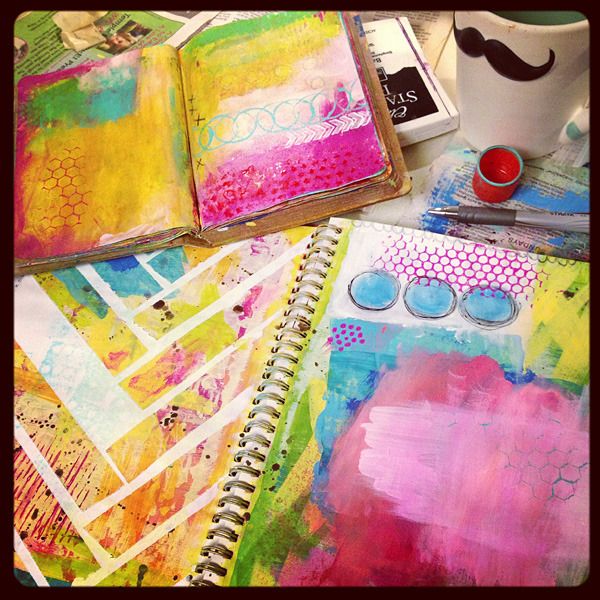 She said it would be awesome to have the same sort of thing, but in digital form. So, I thought about what I typically use on a page and I tried to bring it to life in pixels! Typically, that means I will roll all sorts of things into my element packs, like this one here for example,
Heart Art : She Speaks Truth
, which includes paper bits, paint, stamps, inky scribbles, washi tape, word art pieces and doodles:
The whole goal of the Heart Art line is to take the guess work out of art journaling so that any one feels like they can try their hand at it! All the paints, scribbles and stamps come with layers of color and texture to them... everything comes "ready to wear" (or "ready to paint"):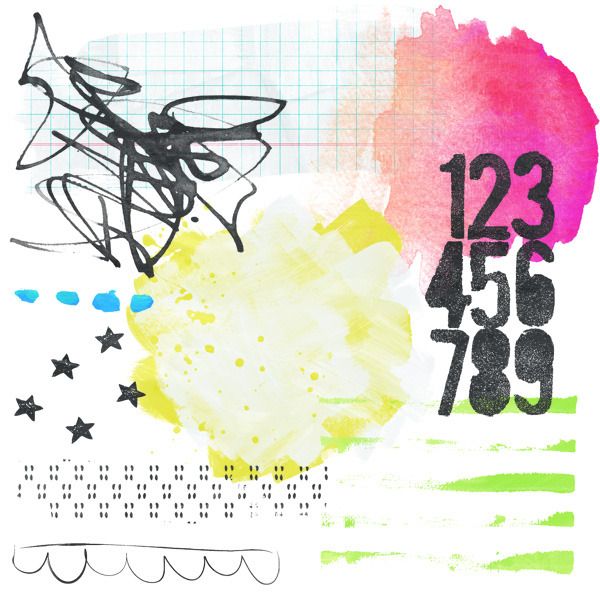 Now that we know what we need, let's dive in to how it's all done!
To Shadow or Not to Shadow?
That's a great question! The answer? It's all up to what you like.
I have used my art journaling kits to create pages that are more traditional before, like this page made with
Heart Art : Seeing Red
: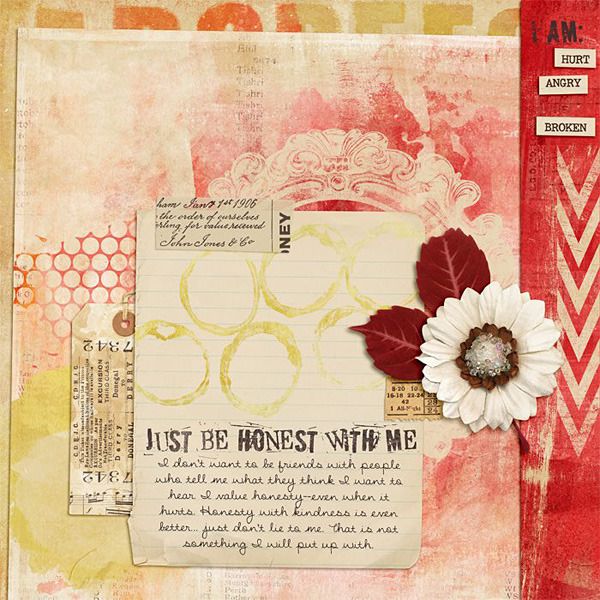 I've also done pages with little to no shadows on them, like this page that uses
Heart Art : Make a Mark
,
Heart Art : I am Resolved
, and
Heart Art : I am Determined
.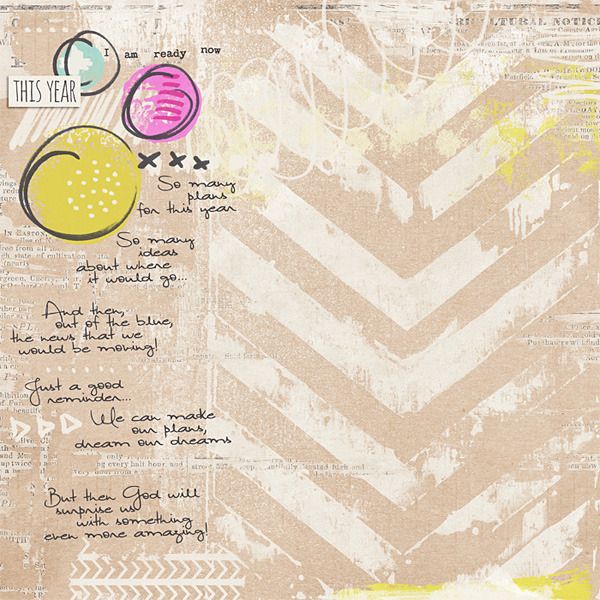 So, it's all up to your own personal preference!
Where to Start?!
I always begin an art journaling page by selecting my "canvas" (a/k/a "paper"). For this page, I selected this one from
Heart Art : Out of the Darkness
because it's probably my all-time favorite: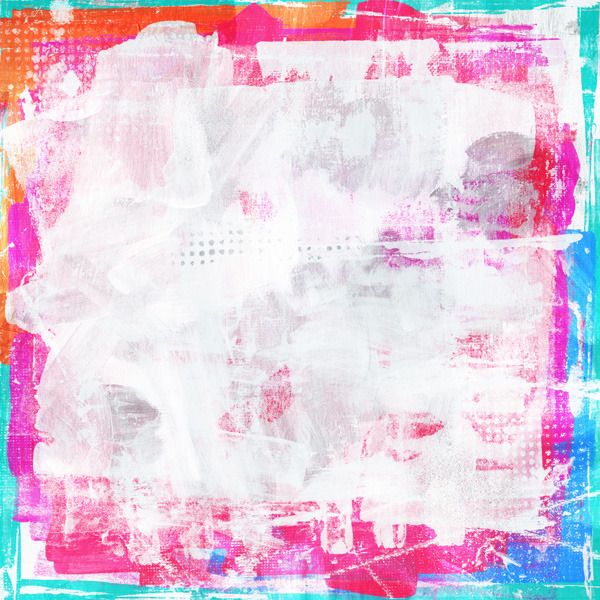 Another reason why I wanted to start with this paper as my background is that I already put in about an hour working on it when I designed it! So, all the hard work of making my background look like it's been layered with paint has already been done. LOL!
Now, this page is already full of white paint, but I wanted to add a little more to it. I picked a few pieces from the coordinating
Heart Art : She Speaks Truth
element pack:
Since you can't really see the white paint here, this what it looks like when I turn the paper layer off:
I just stuck some paint in the corners and now my canvas is ready for a focal piece.
I chose these stampy looking butterflies from the
Heart Art : Fly Away
brush pack:
These brushes come in both .abr and .png format... and that's because while I loooove brushes, I hate to load them as brushes! I'd much rather use a brush in .png format and change the colors to suit my needs. It's so much faster and easier.
So, I dropped this black .png stamp onto my page and after sampling the soft black from one of the elements in the kit, I changed its color to coordinate with the word art I was planning to use.
(By the way, if you don't know about this little trick, check out this tutorial on
lock the transparent pixels of a .png
in Photoshop).
And finally, it was time to add a little word art to my page. I chose these pieces from
She Speaks Truth
as well:
And now my page is done! Yes... it's really THAT easy.
Homework
Your homework assignment for today is to make your own art journaling page using:
a painted background
at least 1 stamp or brush
at least 1 bit of paint
some word art, text or journaling
Special Offers