Layer Styles
Hi everyone, it's KimB and I will be taking you through some basics on how to use one of the most fantastic 'tools' we have at our disposal in photoshop.
This has to be one of my favourite things to use .. not only do they save a lot of time but they can be really fun to use for adding creative additions to title work , texts, elements, framing and seriously, just about anything your heart desires.
Please note that this tutorial is in Photoshop CS5. Elements users will not have all the given options available.
Lets start at the beginning:
Layer Styles all have a .ASL file association to them.
What is a Layer Style?:
Simply put, and just as it sounds, it's a style or effect added to text/a layer/element or background in a non destructive way.
Chosen effects are added to your whole layer, so anything in that layer, be it an element or word art or text will have the same style/effect applied to it.
Installing Layer Styles:
I'm using
Mommyish Essential Styles for PSE & CS
available right
HERE
@ TDP for this tutorial.
There are few ways of installing Layer Styles in Photoshop CS.
*1
> By double clicking on your .ASL file from the folder you have downloaded and unzipped.
*2
> By simply dragging it directly into your Photoshop window.
*3
> By using your "preset manager" found under EDIT > PRESET MANAGER.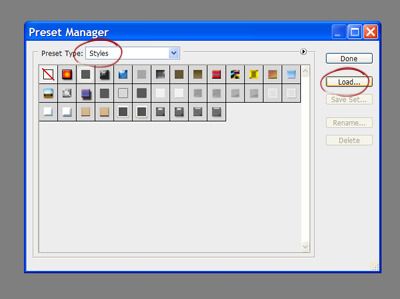 > Select the
styles dropdown menu
on the pop up, click on load and click on your .ASL file from your saved location.
*4
> Or by doing the same directly from your STYLES PALETTE on the right hand side of your photoshop window
.
For Elements users:
Watch this fantastic tutorial on installing styles in elements by Mommyish.
https://www.youtube.com/watch?v=gQis...ature=youtu.be
WOOP - now you should have your Styles loaded - ready to use and play with.
Using your Layer Styles.
Now that you have your layer styles ready in your Styles Palette it's as simple as choosing your element/photo/text that you want to apply an effect too.
Just Click on your chosen Layer Style and Voila (or Wa-lah as some will say) and it's done. Easy Peasy.
I'm going to be using my layout here (
Using Field of Dreams kit
) as an example: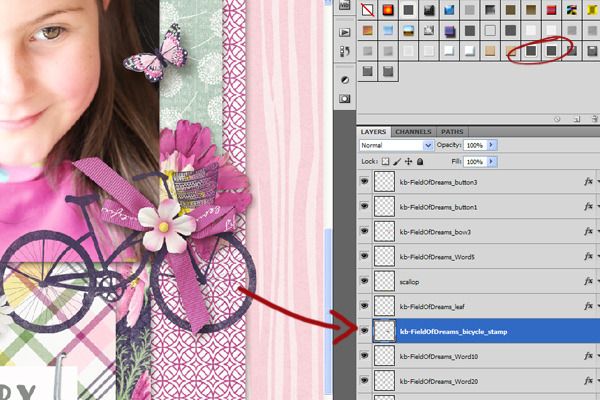 I want to create my 'stamped' bicycle into a 'sticker' to make it pop a bit more.
I've chosen my style (
Mommyish - Essentials - Sticker Shadow)
and YAY, one click and my stamp is now a sticker...
BUT it's a little larger than I want .. it's now time to modify the style to suit my page and needs.
Adjusting/Modifying your Layer Styles.
* This can be done by double clicking on the little
FX
icon on your 'applied layer' or clicking on the eye next to the word EFFECT.
* This will bring up your
layer style adjustment pop up box.
* From here you
can adjust and change
any of the shown selections: be it drop shadows, lighting angles, bevels etc etc.
* I adjusted the stroke size(making it smaller), the bevel edge size smaller and the shadow depth less. In this way I've modified the layer style to suit my element and page.
Click OK and it's done.
*
Want to use the same effect on more items
? Just right click on the layer you have modified/applied your layer Style too, and in the drop down menu >
Copy Layer Style.
Now you can use it again by right clicking on the layer/element text of choice and select >
Paste Layer Style.
I've also used
(Mommyish - Essentials - Acrylic - Shadow)
to create some more interest on my word art title block.
And this is the finished page >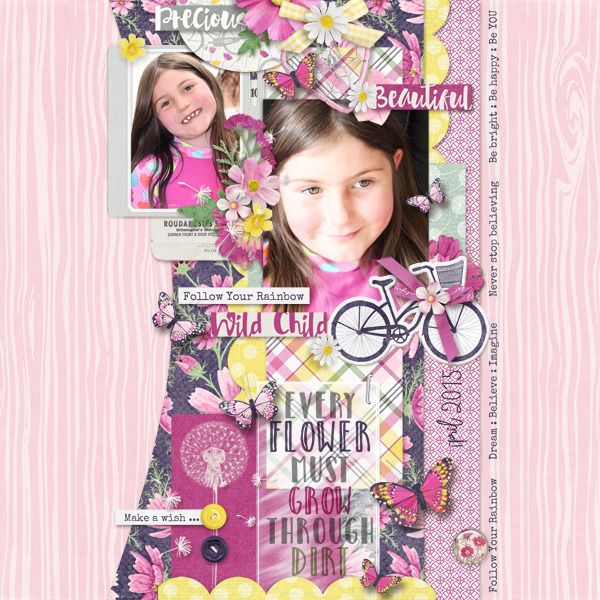 So much FUN FUN FUN.... From the basics above- you can now experiment with other styles and change them as you need too.
HOMEWORK:
Your assignment for today is to use any
TWO (or more) Layer Styles
on your layout/creation (as in my example above) and let us know which element, text, word art or background you have applied it too.
But most of all >> HAVE FUN playing and creating with your layer styles.
Special Offers: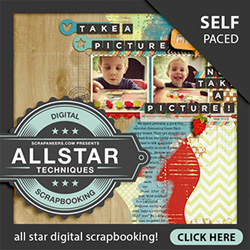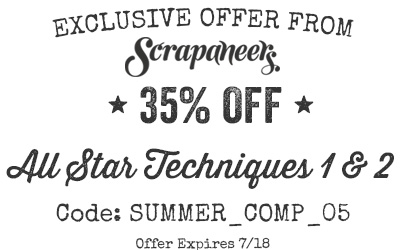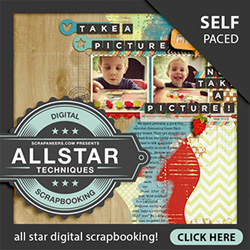 Quick Links:
Styles & Actions Category || Brushes & Stamps Category