Hello Campers!! It's time for WEEK #4 of MESS HALL for SUMMER CAMP 2019! I am Jennifer, your camp counselor for this week! For our last week we are talking about drinks/cocktails! Who doesn't love a good drink after a long day.
If you haven't already taken a look at our previous recipes, we've done
Week #1
Week #2
Week #3
__________________________________________________
First up this week is a wonderful Sherbet Punch!
photo from Natasha's Kitchen
Raspberry Party Punch Ingredients:
2 Liter Bottle Sierra Mist, Sprite or 7-up, chilled
2 Liter Bottle Club Soda, chilled
1 Fruit punch can (12oz), or pink lemonade, thawed in the fridge
1 Pineapple juice can (12oz), thawed in the fridge
6-8 scoops Raspberry Sherbet Ice cream, or any flavor you have available
For Garnish
Fresh or frozen raspberries for garnish
Pineapple slices for garnish (canned or fresh)
How to Make Raspberry Sorbet Party Punch:
Pre-scoop ice cream and place on a baking dish lined with plastic wrap. Freeze and add ice cream just before serving so it remains frozen in the punch.
In a punch bowl, combine: 2 juice cans. Pour in Sierra Mist and Club Soda and gently stir until combined.
Add pineapple slices and raspberries if using and top with scooped sherbet just before serving. The ice cream will keep it chilled. Add cold water or ice if desired to control how sweet your punch is. Note: once the ice cream melts, the punch will be sweeter.
__________________________________________________
Second is a wonderful looking and I'm sure tasty drink from kaphelps (KerriAnne)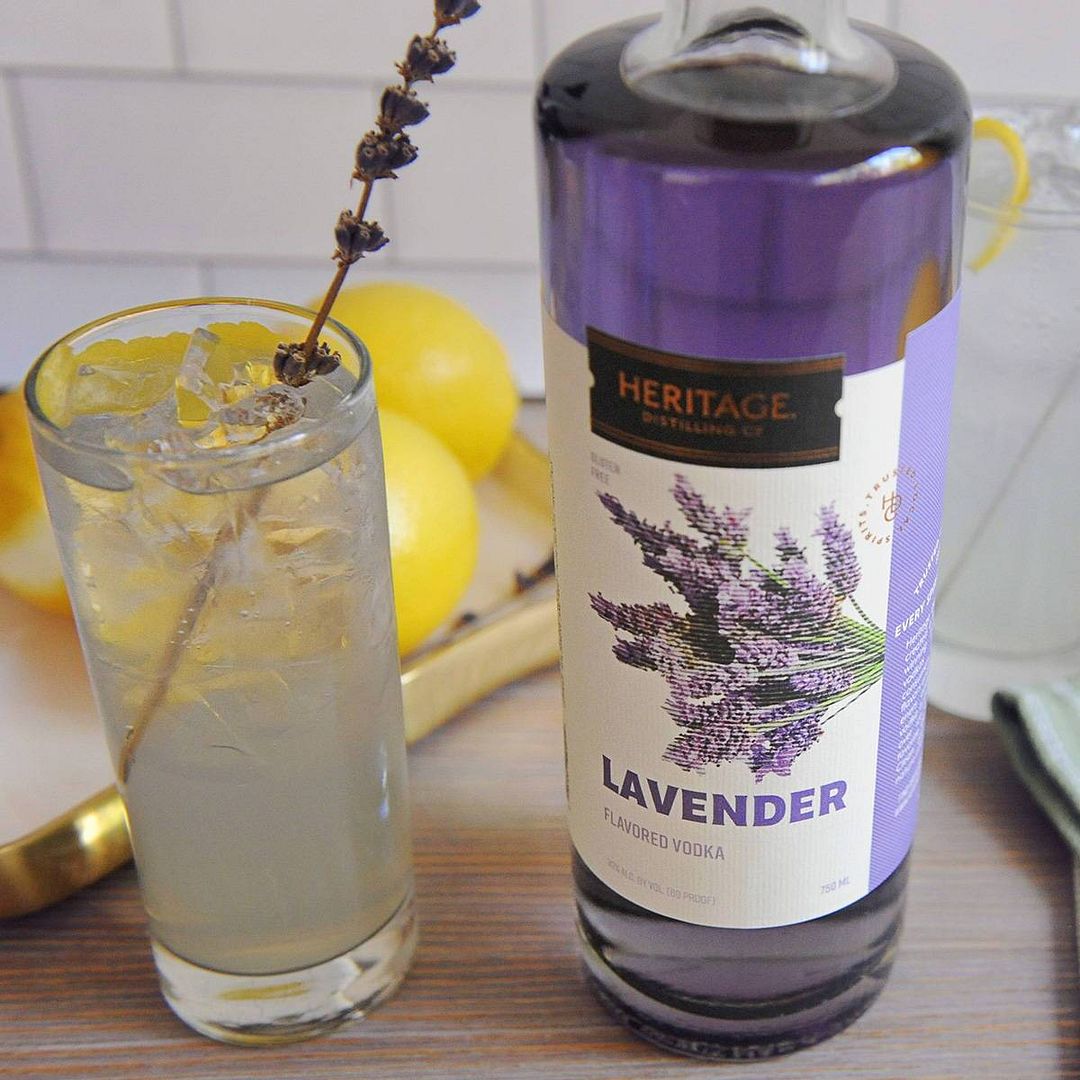 Photo from Heritage Distillery
Here is a drink with a boozy twist on everyone's favorite summertime drink- lemonade! This simple cocktail uses Lavender vodka for an unexpected twist, but any type of fruit flavored vodka - strawberry, melon or even vanilla would be delicious.
All you need is:
2 oz flavored vodka (I used Heritage Distilling Lavender)
2oz Lemonade
2oz Club Soda
Lemon and Lavender for garnish or fruit of choice
How to Make Lavender Lemonade:
1. Combine Lavender vodka and lemonade over ice.
2. Top with club soda.
3.Garnish with a fresh lemon wedge and a lavender sprig.
4. Light and refreshing for those hot summer evenings!
5. Enjoy!
__________________________________________________
Third is a wonderful
Mixed Berry Sangria
for a summer party!
Photo from Simply Recipes
All you need is:
3 tablespoons sugar
1 Orange cut into chunks, seeds removed
1 1/4 cups mixed berries, fresh or frozen, such as blueberries, raspberries, or strawberries
1 750-ml bottle red wine
1/3 cup brandy
3/4 cup orange juice
Extra fruit for garnish (optional)
Soda water (optional)
How to Make Mixed Berry Sangria:
1.
Muddle the fruit with sugar: Place sugar, orange chunks, and berries into a pitcher and smash with a wooden spoon or a muddler to release some of the juices and break up the fruit a little bit.
2.
Add the red wine, brandy, and orange juice and steep for about 5 minutes or up to 2 hours. The flavors will mellow and improve the longer you can wait before serving.
3.
Pour into glasses filled with ice and extra fruit. If you prefer a very clear sangria with no fruit pulp, pour the sangria through a strainer when serving.
If you want, add some soda water to your sangria for some bubbles.
__________________________________________________
Just to make sure you can get your Mess Hall Camp badge for this week... here is the fine print:
You need to try any ONE (1) of the recipes, take photos of your result, and share them in this forum thread*
You have until 11:59 pm PT on Sunday 7/28, 2019 to post your photos here
Once you've posted your page or project here in this thread, copy the URL of your post from this thread and add it to the Summer Camp 2019 Tracking Thread.
Most of all ... have fun! (although, letting us know what you thought of the recipe would be awesome, too!)