Hey, Creatives! Welcome to WEEK #2 of MESS HALL for SUMMER CAMP 2019! I am Kris (the designer behind
Humble & Create
), and I am your camp counselor for this coming week. This week it's all about MAIN COURSES!
I hope you've been loving all the recipes so far, as well as the fun challenges that our team has put together for you. If you're just now joining us, thank you so much for coming by for WEEK #2 of our Summer Camp MESS HALL. If you love good food and don't want to miss out... make sure you check out
WEEK #1
(lots of desserts!).
Make sure you grab an activity tracking card and join in from this point forward for all of the fun events, awesome challenges, easy tutorials… and you guessed it… prizes!
I'm actually REALLY hungry looking at some of these recipes... so let's dive in! We have three amazing recipes for you this week -- a Bruschetta Chicken recipe from me, a recipe for Mexican Pizza w/ Avocado Cream from TDP creative team member
Sheana
, and a Creamy Spinach & Cheese Green Chile Enchilada recipe from TDP creative team member
Kelley
.
First up this week is my
GRILLED BRUSCHETTA CHICKEN...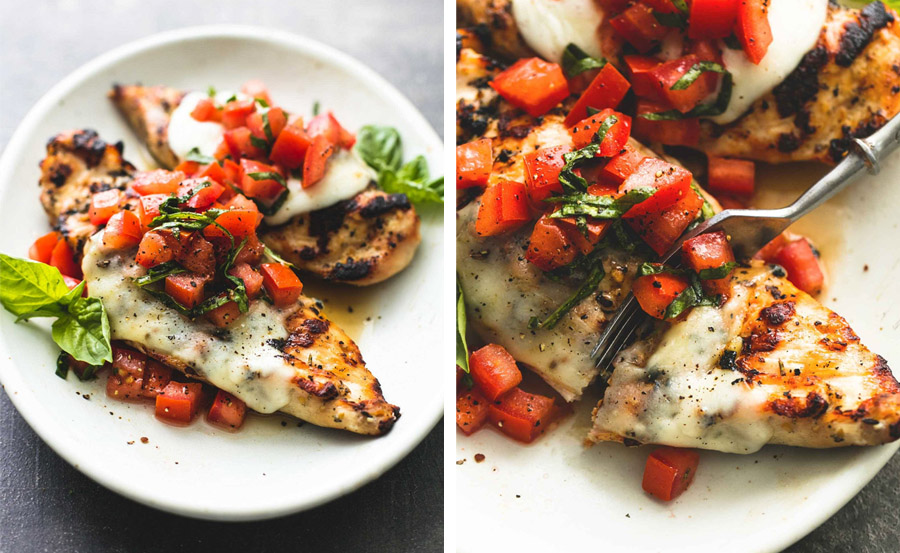 Easy-to-make and healthy, this grilled bruschetta chicken with simple seasonings, melty mozzarella cheese, and a fresh tomato and basil topping is the perfect summer meal! It is definitely one of my favorite summer recipes! When the week gets long and you don't feel like cooking, this recipe for Bruschetta Chicken couldn't get easier. You can definitely double this recipe to feed a crowd, repack for lunches, or reheat and eat the next night. It's one of my go-to recipes & can be placed on salad, eaten on its own, or paired with side dishes like mashed cauliflower and veggies. It is also Keto-friendly and Low-Carb friendly.
Servings:
4 people
Ingredients:
4 boneless skinless chicken breasts, pounded to even thickness (1 inch or less)
2 tablespoons oil
1 teaspoon Italian seasoning (OR 1/4 teaspoon each dried basil, dried oregano, and dried thyme)
1 teaspoon garlic powder
1/2 teaspoon salt
1/8 teaspoon black pepper
4 slices mozzarella cheese
Tomato Basil Topping
3 Roma tomatoes, diced
salt and pepper, to taste
2 teaspoons fresh lemon juice
2 tablespoons finely chopped fresh basil
Instructions:
In a large bowl combine chicken, oil, Italian seasoning, garlic powder, and black pepper. Stir to combine and coat chicken evenly with the seasonings.
Grill chicken over medium-high heat 6-8 minutes on each side or until cooked through.
While chicken is cooking, prepare the topping. In a medium bowl combine tomatoes, salt and pepper, lemon juice, and basil and stir well.
Once the chicken is cooked through, top each chicken breast with a slice of mozzarella cheese and cook for about 1 minute longer until cheese is melty.
Top chicken with tomato basil topping and serve immediately.
[ recipe and photo credits are from lecremedelacrumb.com ]
.
---
.
Next up is a great "Taco Tuesday" recipe from Sheana --
MEXICAN PIZZA WITH AVOCADO CREAM...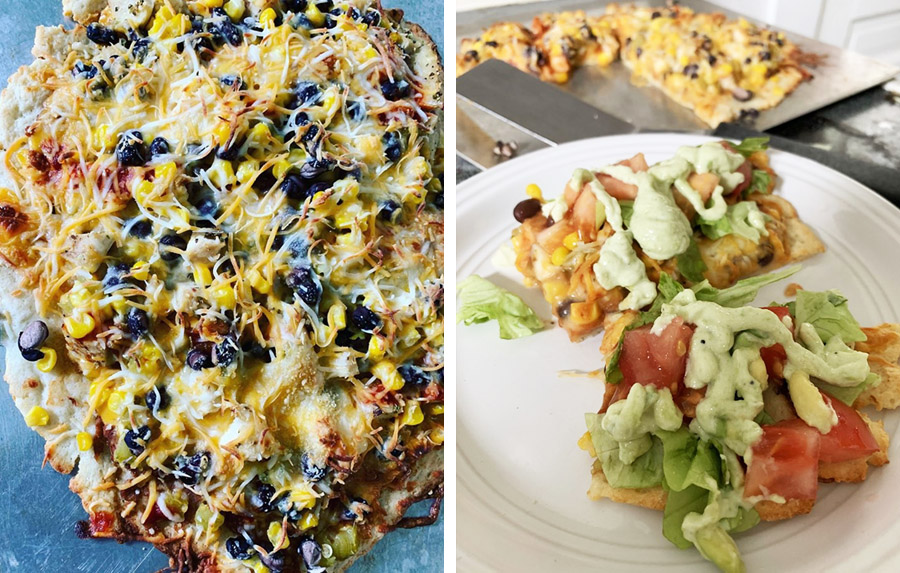 For crust:
1 cup self-rising flour
1 cup fat-free Greek yogurt
For pizza:
1 tbsp taco seasoning
1/2 cup diced grilled chicken
1/2 cup fat-free refried beans
1/2 cup corn
1/2 cup black beans
1/4 cup salsa con queso
1/4 cup salsa
1/4 cup diced green chilies
1 cup Mexican blend cheese
For avocado cream:
1 medium avocado
1/2 cup fat-free Greek yogurt
salt & pepper, to taste
For garnish:
lettuce, shredded
tomato, diced
Instructions:
Preheat oven to 425F
For crust:

combine flour and Greek yogurt until well combined (I usually put it in the stand mixer on low until it is completely combined)
spread the dough evenly on a baking sheet (it is easiest to spread it between two pieces of parchment paper lightly sprayed with cooking spray)
bake crust for 8 minutes

For pizza:

while crust is baking, combine taco seasoning with refried beans
temove crust from oven, layer all pizza toppings on the crust (my layers orders were refried beans, salsa con queso, salsa, chick, corn, black beans, green chilies and Mexican blend cheese)
bake for 10-12 minutes or until crust and cheese start to brown

For avocado cream:

while pizza bakes, mash the avocado.
combine Greek yogurt with mashed avocado, salt, and pepper

For garnish:

allow pizza to cool for 5 minutes before cutting
top with lettuce, tomato and avocado cream
.
---
.
And last but not least... Kelley has this delish recipe for
CREAMY SPINACH & CHEESE GREEN CHILE ENCHILADAS
...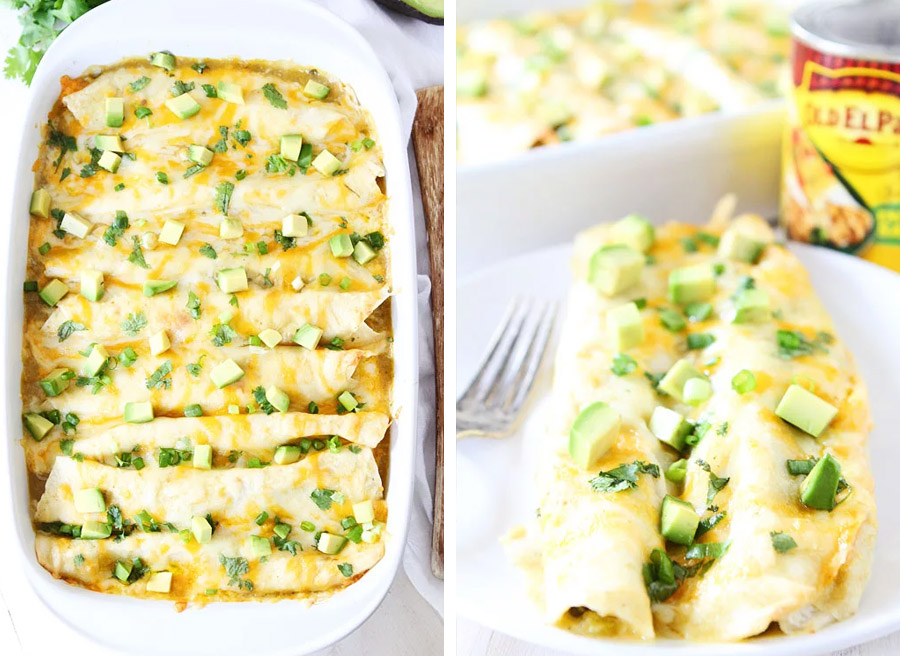 Ingredients for one 9x13 casserole:
1 tablespoon olive oil
1 small yellow onion (diced)
1 clove garlic (minced)
10 cups fresh spinach leaves
1 tablespoon fresh lime juice
1-3 cups chopped cilantro
1 can (4.5 oz) chopped green chiles
1-2 teaspoons ground cumin
1-4 teaspoons ground chili powder
1-2 cups sour cream (or plain Greek yogurt, if preferred)
2 cans (10 oz each) mild green chile enchilada sauce
8 flour tortillas (burrito size)
2 cups shredded Monterey Jack cheese (divided)
2 cups shredded cheddar cheese (divided)
salt & black pepper (to taste)
optional toppings: green onions, fresh cilantro, diced avocado, etc.
Instructions:
Preheat oven to 375F.
In a large skillet, heat olive oil over medium high heat; add the onion and cook until softened, about 3-4 minutes. Add the garlic and cook for an additional 2 minutes. Add the spinach leaves and cook until they are wilted and shrinks down. Stir in the lime juice, cilantro, green chiles, cumin, and chile powder. Remove from heat and stir in the sour cream. Season with salt and pepper, to taste.
To assemble, spread about 1/2 can of enchilada sauce in the bottom of a 9 x 13 baking dish. Fill each tortilla with about 1/3 cup of the spinach mixture. In a medium bowl, combine both kinds of shredded cheese. Sprinkle cheese over spinach mixture, about 3 tablespoons per enchilada. Roll up and place seam side down in the baking dish.
When all enchiladas have been rolled and placed in the pan, top with the other 1/2 can of enchilada sauce and about 1/2 of the other can (we often have some sauce leftover). Sprinkle remaining shredded cheese on top of enchiladas.
Bake 20-30 minutes or until the cheese is melted, and the sauce is bubbling around the edges.
Garnish enchiladas with green onion, cilantro, and avocado, if desired. Serve warm.
*NOTE* these enchiladas freeze really well! Cool completely, without toppings, and place in an airtight container. Reheat individual servings in the microwave when ready to eat! You can also freeze an entire pan and reheat all of it in the oven!
[ recipe and photo credits are from twopeasandtheirpod.com ]
.
---
.
Don't those all look great?! I know what I'm cooking this week!
Just to make sure you can get your Mess Hall Camp badge for this week... here is the fine print:
You need to try any ONE (1) of the recipes, take photos of your result, and share them in this forum thread*
You have until 11:59 pm PT on Sunday 7/14, 2019 to post your photos here
Once you've posted your page or project here in this thread, copy the URL of your post from this thread and add it to the Summer Camp 2019 Tracking Thread.
Most of all ... have fun!
(although, letting us know what you thought of the recipe would be awesome, too!)
*you will need to use a photo-sharing site to share your image (not the TDP gallery). THANK YOU!
.