Hey folks, and welcome to Summer Camp! We have so much fun in store for you this month, including fun new challenges every week, bonfires, and lots and lots of opportunities to explore your creative side! My name is Carrie and I'm your camp counselor for the Arts & Crafts challenge this week!
You know that throughout the year we post new tutorials every Tuesday. Do you read them? I certainly do; and more often than not I find myself learning new tricks, or picking up new skills. Your challenge this week is to pick just one of them [we put them all together on this handy Pinterest board
RIGHT HERE
] and use it to make a layout. But, because picking just one tutorial is so easy, I'm going to challenge you to use one you've never used before. Try something new. That's what summer camp's all about, right?
So here's my layout. I used the tutorial
Getting Creative With Alphas
by the ever-amazing Shivani. This page is just one of many documenting our most recent summer vacation/family holiday. I'm making a two page spread for each event/day: one 12x12" page and a facing pocket page with 6 4x6" inserts. This page is one of those pocket pages, so I'll be printing it out at 4x6 images instead of a single 12x12" page. But since this is about the alphas, I used the wood alpha from KimB's
C'est La Vie | The Alphabets
, but dressed it up a bit by clipping the dark brown paper from
World Traveler | Kit
by Juno Designs & Meagan's Creations, and then changing the blend mode on the paper to Linear Light. I love the dark wood effect it gives the letters. The typewriter stamped letters are from
Block Out | Alpha
by Dawn by Design. The scripty bit ("the menu") is a stamp from
Table for Two | Stamps
by Sahin Designs.
We also have this gorgeous hybrid project from KerriAnne, and here she is to share the details of her project!
Hello Campers!
Don't you love the creative ways Carrie used the alphas and typed letters in her layout?! I'm inspired to try to be more creative with my titles- but until then, I found a simple hybrid project from the super talented Kate. She shared some cute
Hybrid Napkin Rings
on the blog back in November 2017. Summer around here is pretty casual - paper plates and napkins are perfect most days but I wanted a little something to make the 4th of July and picnics and get-togethers a little more special. I found .
..And the Pursuit of Happiness | Kit
by Wishing Well Creations by Laura Passage. The patriotic colors and fun summer vibe are perfect for napkin rings. I love the way they've turned out and they were so quick and easy - give it a try for your next get together! Happy summer everyone - now bring on the parties!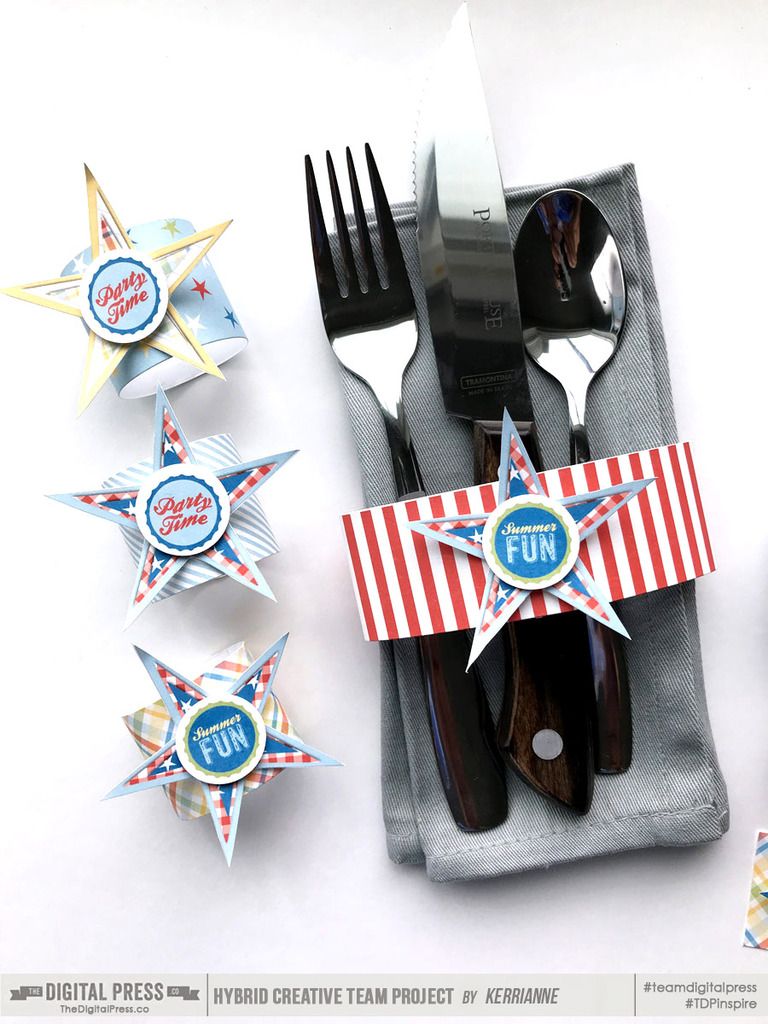 Oh. My. Gosh. Aren't those just the cutest? As you can see, you can take this challenge just about any way you want, as long as you stick to the rules. Because at camp, there's always rules. Blah. But, let's go over them anyway.
Rules:
1. Your layout needs to be new for this challenge, apply something you've learned from one of our Tutorial Tuesday posts [
here
], and needs to be a tutorial you've never used on a TDP layout before.
2. You must load your layout into the
challenge gallery here at TDP
and into this thread.
3. Your layout must be completed and posted by
11:59 pm ET
on
Saturday, July 7, 2018
.
4. And lastly and most importantly, have fun learning and applying something new!