Hi there, Hope you enjoy iNSD activities at The Digital Press!
Today, I'm here to host a fun game of PUN-TASTIC TITLE.
I just want you to share the
Pun-Tastic Title Idea
for us!
e.g
CATITUDE (attitude) for Cat theme layout
BERRY HAPPY (very happy) for Strawberry-Hunting layout
SNOW MUCH FUN (so much fun) for Winter layout
etc... Give it a smiley title! Googling with the layout theme and "puns" will find hints.
AND I'm hosting a same Challenge throughout May (but for the challenge, you'll actually make a layout -- for this game, you just brainstorm the titles!).
I would be happy if you could participate in the May 2022
PUN-TASTIC CHALLENGE
as well
.
---
.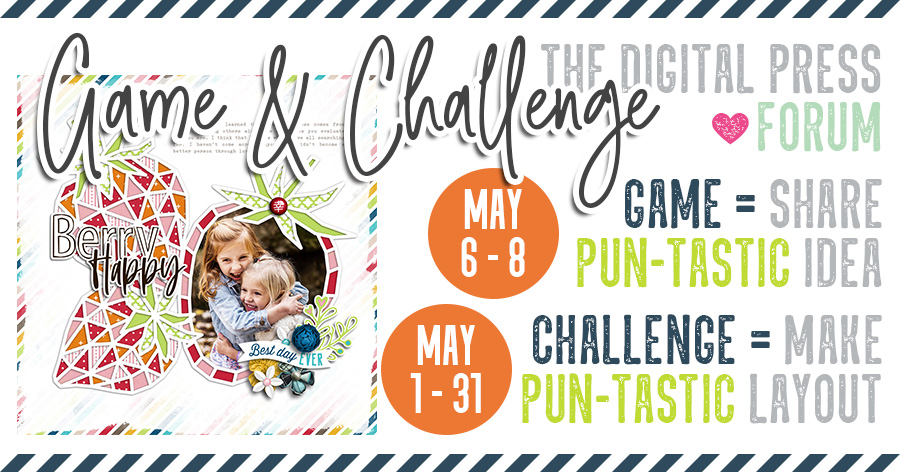 .
---
.
Anyone who participates in this PUN-TASTIC TITLE game throughout our weekend-long NSD celebration (May 6 -thru- May 8, 2020; all games must be entered by 11:59pm PT on Sun 5/8) will be entered to win $5 to spend in my shop -- Akizo Design's shop at TDP !

And... get this... if you participate in EVERY SINGLE GAME in our NSD forum this weekend, you'll be entered in a random drawing for a $20 gift card at TDP!

Winners will be notified in the Friday 5/13 edition of The Digital Press Newsletter (sign-up here, if you're not already a subscriber!)