WELCOME TO OUR BIG NATIONAL SCRAPBOOKING DAY (NSD) CELEBRATION AT TDP!
Need a road map? We know there's a lot going on, and we hope this post will help guide you.
STORE-WIDE SALE (FRI-SAT-SUN-MON) --- 50% OFF our brand new Special Edition collection (launching Fri 5/6), 40% OFF almost everything else in the store, and some extra special deals and grab bags that will probably blow your mind! Check the newsletter on Friday 5/6 for more info!
CHALLENGES --- We've got 7 different challenges planned this weekend (1 on Thurs 5/5 to kick things off, and 2 each day on Fri-Sat-Sun). Participate in as many as you'd like -- and for every challenge you complete, you'll earn one entry in each of our 7 NSD challenge prize drawings. Make sure you stop by THIS THREAD to leave us your prize ranking info!
GAMES --- We started the games on Sunday 5/1, and have launched a new one each day since... and we'll add 2 per day on Fri-Sat-Sun, as well. What's the difference between a challenge and a game? Mainly, the games are just quick/fun activities that usually only take 1-2 minutes to complete. Challenges, on the other hand, are more involved and typically require you to make something/scrap a page/etc.
WIN YOUR WISHLIST --- This promotion launched on Sunday 5/1, and the winner will be announced in the TDP newsletter on Friday 5/6. The deadline for entering this giveaway is Wednesday 5/4 at 11:59pm PT.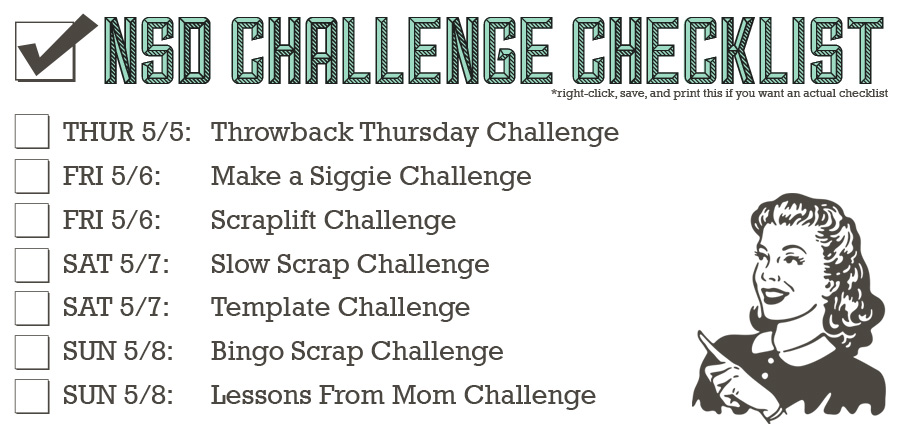 Meanwhile, we've already noticed a lot of new faces in our forum in the past few days... and we'd love to get to know each of you better!
Thus... if you're new around these parts, please leave a post in this thread that tells us a little about you! Doesn't have to be anything formal or in-depth... just a few fun facts. For instance, "I love coffee ice cream and hide it from my husband/kids under the frozen peas in the freezer." #TrueStory