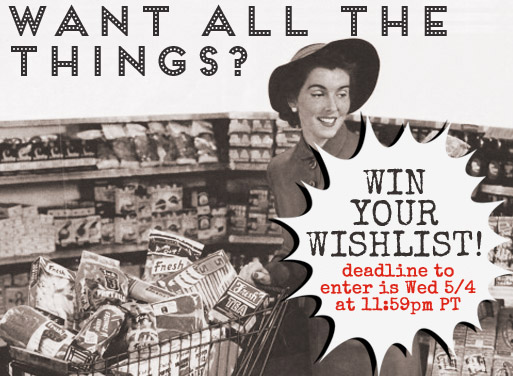 Here at The Digital Press, we're gearing up to celebrate National Scrapbooking Day (NSD) in a big, big, BIG way!
To kick off our week-long celebration, we're opening up our "WIN YOUR WISHLIST" event today... to give you plenty of time to browse through the shop and fill-up your wishlist in The Digital Press shop. Then, on Friday 5/6 in our weekly newsletter, we'll gift one lucky subscriber his/her wishlist items* as we kick-off NSD weekend here at TDP!
Here's how it will work:
Log-in to your shop account here at The Digital Press.
Browse through the shop and add items to your wish list using the "ADD TO WISHLIST" button (see below for info about what it looks like).
Make sure your wishlist choices are complete by no later than 11:59pm on Wednesday 5/4.
Once your wishlist is ready, come back to this thread and leave a post letting us know that you are joining in and want to be considered (again, the deadline for doing so is 5/4 at 11:59pm PT)
Finally, make sure you're a subscriber to The Digital Press newsletter -- to ensure you don't miss our big announcement on Friday 5/6! [if you don't already receive the newsletter, you can SUBSCRIBE HERE]. You don't have to be a subscriber to win... but it will sure be a fun newsletter to open if you are chosen!
"How do I add items to my wish list?"
Again, make sure you're logged-in to your shop account at The Digital Press before adding anything to your wishlist.
Once you're logged-in, look for the following buttons in the shop...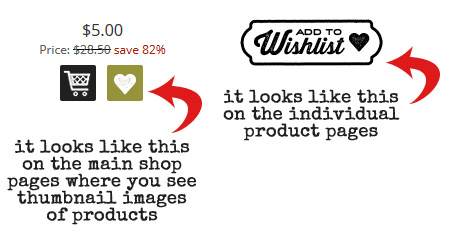 *
please note that this giveaway is limited to $50 worth of product. Your wishlist can be as big as you like, however (because we know it's a fantastic way to keep track of all of the things you have your eye on in the shop -- and we'd never ask you to remove anything from your wishlist for that very reason!). Therefore, if you happen to be chosen as our winner and your wishlist exceeds the $50 limit, we'll issue you a $50 gift certificate instead of "clearing your wishlist/cart" for you.